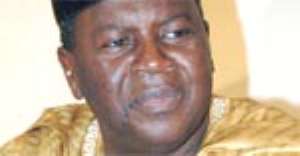 THE GROWING popularity of Vice President Alhaji Aliu Mahama on Sunday took a different dimension when he arrived at the New Patriotic Party (NPP) mammoth rally at Kasoa in the Central Region.
Alhaji Aliu Mahama, one of the forerunners among the NPP's 17 presidential aspirants who joined his boss' convoy at Mallam junction on its way to Kasoa, was mobbed by his fans who lined the streets to give him a tumultuous welcome.
This scenario brought the Vice President's convoy to a standstill, compelling him for the first time to break state protocol, which entreats him to be seated before his boss, President Kufuor.
Alhaji Mahama, who flew in from Tamale in the afternoon after attending a programme in the morning, could have joined President Kufuor to exchange greetings with fellow contestants and other dignitaries present but his fans did not allow him to do so.
Alhaji Mahama was the 17th candidate to address the gathering.
"We need a special magnet to attract floating voters in this town and the only special magnet that you have is who?" he quizzed.
"Aliu Mahama is the answer to that.
"President says 'mabin papaa pa', he added with confidence, attracting loud applause from the crowd.
Describing himself as the paramount and most experienced among the candidates, Alhaji Mahama said, "We must win 2008 election with a huge gap. Our opponents are now dead in the fridge and come December 2008, we would score them three nil without any penalty," he stressed.
President Kufuor expressed happiness over the assurances given by all the aspirants that they would continue to work together after congress.
He said the NPP had passed through thick and thin and stressed the need for unity to continue the good works of the government.
"The NPP is a government of hope to Ghanaians, looking at our track record during the past seven years," the three times NPP flag bearer said, adding "Apart from the NPP, there is no party that can boast of abundant competent people to steer the affairs of the nation," the President stated.
Apart from noting that the party has achieved a lot within the past seven years, he emphasised the need for delegates to elect someone who can unite the party and win the next general elections.
By Sheilla Sackey