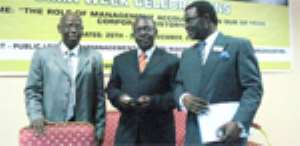 INDIGENOUS ENTERPRISES have been urged to invest in research so that their operations can meet the challenges of modern businesses.
Joseph B. Winful, a Senior Partner at KPMG, Ghana, made the observation at a public lecture organized by members of the Chartered Institute of Management Accountants (CIMA) in Accra.
The theme for the lecture was: "Management Decision Making in a High Performing Organisation-The Role of the Management Accountant."
It was part of a week-long activity marking this year's CIMA Week which was launched by Ms. Joyce Aryee.
According to Mr. Winful, 'a high performing organisation' was not just in the name but the ability of such an organisation to turn things around.
He mentioned that for a company to be identified as a high performing entity, it should be able to make effective and timely decisions.
In addition, members of such companies should have functional knowledge and good knowledge about their products.
Mr. Winful identified some factors as indicators for measuring high performing organisations such as infrastructural development, effective regulations and ability to source funding from banks with very good interest rates.
These factors included effective judiciary system, availability of skilled labour, research and educational institutions.
He mentioned lack of effective competition, resulting in all entities delivering similar levels, and governmental influence, especially in the award of contracts as some of the bane of local companies.
He described the role of the Management Accountant as "an effective team-functional sector group member with good knowledge of the sector-function".
The newly elected executives included Jonas Quaye, President; Stephen Asare, Vice-President; McGeorge Gyimah, Secretary; and Stella Oye, Vice-Secretary.
Others are Gus Kesse, Organiser; Bismarck Badu, Publicity Secretary; and Philemon Menia, Coordinator.
By Wisdom Peter Awuku