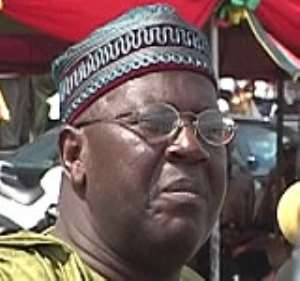 Vice President Alhaji Mahama on Tuesday observed that the level of tolerance and unity of purpose among Ghanaians should insulate the country from religious disputes that had wrecked havoc in other countries.

"We are one people and what we worship should not be a barrier," he said when he interacted with a delegation from the Ghana Muslim Mission at the Osu Castle.

He said general commitment towards peaceful co-existence had insulated Ghana from the bloody conflicts that had been the bane of West Africa and asked Muslims to continue to pray for the peace and stability the country was enjoying.

The delegation was led by Dr. Rabiatu Ammah, Chairman of the Planning Committee of the 50th anniversary celebration of the Mission, which was started in October this year and would be climaxed with a rally in Accra this month.

Vice President Mahama asked members of the mission to launch a crusade against outmoded cultural practices such as the marriage of teenagers and female genital mutilation.

He asked them to attach attention to the education of the girl child in order to ensure accelerated development of the nation.

Dr Ammah said the mission was promoting co-existence among the various religions, national unity and the holistic education of Muslims.

She said the Golden Jubilee anniversary include blood donation, clean-up exercises and seminars.