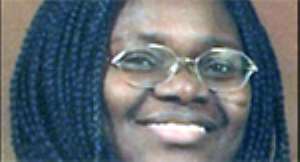 A man has been arrested in connection with the gruesome multiple stabbing of London-based Dr. Victoria Bernice Anyetei on August 14, 2007.
The suspect, who is said to be the 21-year-old son of a high court judge in Ghana, will make his third appearance before a law court on Friday, December 7 in London, United Kingdom (UK).
Police sources say the suspect, one Quartey, was arrested after a DNA test which found teeth bite wounds on his arm matched with human flesh left in Dr. Anyetei's teeth.
Apparently, she put up a ferocious struggle against her attacker, and plunged her teeth into him in a vain effort to survive.
The body of the paediatrician will, meanwhile, arrive in Accra tonight and she will be buried on Saturday after funeral rites at the Trade Fair site.
A funeral service was held for her at the Methodist Central Hall, Westminster last Friday, November 30. It was attended by a swarm of sympathisers.
A postmortem examination showed that the top children's doctor and staunch Christian was repeatedly knifed as she got into her car outside her home in Dartford at around 8.20am that fateful day.
A team of 20 officers combed the area surrounding Dr. Anyetei's home in a bid to find the murder weapon.
It is believed that the killer laid in wait outside her front door - possibly hiding in the back seat of her car - before pouncing on her as she left for work.
The 53-year-old consultant was stabbed multiple times all over her body as she sat in her Toyota Avensis which was parked in her driveway in the quiet cul-de-sac.
Her blood-splattered body lay undiscovered in the front seat of the car - with the door shut - for over two hours and was only found later by her teenage son when he was leaving the house.
A neighbour in the newly-built estate in Dartford, Kent, told how he heard 'blood curdling screams'; "I heard this really loud, anguished yell. I ran outside and saw her son in the driveway of their home.
He was going mad, just staring at his mum's car. Then I saw Victoria. She was behind the wheel with her head thrown back.
Blood was everywhere. Other neighbours were comforting him, but he was still screaming. It was pandemonium. The blood was all coming out of her neck; she was covered in blood. I will never be able to get that image out of my head - it was horrendous."
Chief Superintendent Gary Beautridge of Kent Police described the attack as a "truly extraordinary crime".
On that Tuesday morning, Dr. Anyetei left for work as usual at 8am to drive to Dartford railway station to take the train into central London.
But police believe she was attacked seconds after leaving the £250,000 end-of-terrace home that she shared with her 19-year-old son, Andrew Thompson and a younger relative.

The Ghanaian doctor had worked as a locum consultant paediatrician at St Thomas' Hospital in London for the previous eight months.
Dr Frances Flinter, director of children's services at the hospital said she was well liked and respected.
Dr Anyetei was divorced, and her ex-husband lives in Ghana. Several other relatives, including a brother, live in the UK.
Her next door neighbour, Naseem Shah, described her as a 'wonderful woman'.
"She was very polite and pleasant. She would always say 'hello'. It's terrifying to think this could happen here; it's such a quiet place, there's never any trouble," she said.
Another local said she was deeply religious and would go to church every Sunday; "She was a doctor who was full of goodness and kindness for others. That is what makes this murder so tragic."
A Report