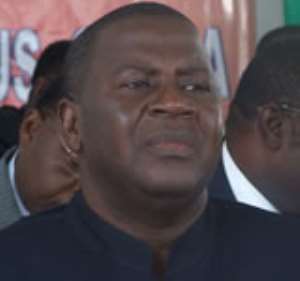 A UK-based Danquah-Busia political grouping, the 'London Group', has endorsed Vice President Aliu Mahama's bid for the presidential slot of the New Patriotic Party (NPP) and pledged to mobilize support from the Diaspora to bolster his campaign ahead of the Party's primary this month.
At a Press Conference at The Golden Stool restaurant in north London, Mr Nii Asare-Addy, secretary of the group, said their primary objective was to campaign for the Vice President to enable him to be elected by the NPP delegates and subsequently win the general election next year.
Mr Asare-Addy said as "a good apprentice", who had learnt for close to eight years under President John Agyekum Kufuor, there was no doubt he would perform. They therefore challenged the NPP to give him the mandate.
He said under the Kufuor-led government, Ghana had made strides and that it would be unfortunate to relinquish that initiative.
"In all management structures where there is a form of apprenticeship, unless the apprentice woefully under performs, or is embroiled in an embarrassing scandal, or has unanswered questions all over the place, he or she is almost invariably promoted to the next level when that position becomes vacant," he said.
Mr Asare-Addy asked: "If the NPP Congress were to reject Aliu Mahama for another person, what would be the credible reason to do so? And would that not be the beginning of the end of the Party as we know it now?"
He held that Vice Presidents are apprentices and potential presidents, adding that now that the apprenticeship is over, Aliu Mahama has passed his training with distinction and he is ready to take over.
He told the gathering that "the NPP and Ghana need Aliu Mahama's brand of leadership, temperament and humility".
Mr Ben Annan, National Campaign Manager for the Vice President, who inaugurated 'The London Group,' said the Vice president was a leading candidate in the race and that no man could beat him.
"As the national campaign manager, I can assure you that we are running a decent, progressive and success-yielding campaign and have thrown a big challenge to all the aspirants," Mr Annan added.
Mr Annan said as the second top official in the government, Vice President Aliu was the best person to lead the NPP to victory in 2008.
"The wealth of experience he has gained in his current position makes him the most suitable individual in our Party to consolidate and extend the achievements of the past seven years both at Party and national levels."