Parliament sits for 15 minutes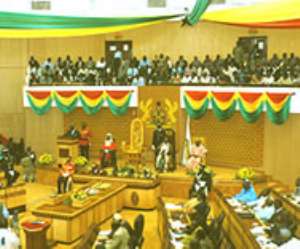 Parliament on Tuesday sat for only 15 minutes because of lack of numbers to vote on the government's Financial Policy for the fiscal year ending 2008.
Debate on the budget ended on Monday and the House was to take a vote on it on Tuesday but there was no quorum.
After prayers the Speaker, Mr Ebenezer Begyina Sekyi-Hughes, sought guidance from the leadership of the House as to how to approach business for the day.
Mr Edward Doe Adjaho, Deputy Minority Leader, said the House should have taken a vote on the budget and asked if that could be done judging from the numbers present.
As at 1007 hours, the Chamber was barely full.
Standing Order 48 (1) of the Parliament of Ghana states "the presence of at least one third of all the Members of Parliament besides the person presiding shall be necessary to constitute a quorum of the House."
Mr Adjaho suggested that the House took a short break while the leadership of both sides marshaled members to continue with business in the chamber.
But Mr Abraham Ossei Aidooh, Majority Leader and Minister for Parliamentary Affairs, moved for an adjournment for the next day as members were at various committee meetings to work on estimates for the Ministries, Departments and Agencies (MDA's) for parliamentary approval next week.
He reminded colleagues on various committees to be present in the chamber before proceedings begin at 1000 hours on Wednesday.
As the Speaker's procession exited the Chamber, there were shouts from the side of the National Democratic Congress (NDC) directed at the Majority: " We are here, where are your people?"
Earlier Mr Haruna Iddrisu, NDC-Tamale South, had wanted to know why questions advertised to be asked on Tuesday and were to be answered by the ministers for Defence and Interior were not part of the business of the day.
In reply, Mr Aidooh said the questions were not there because of delay in having answers to those questions but gave an assurance that they would be answered before the House rises on December 18.