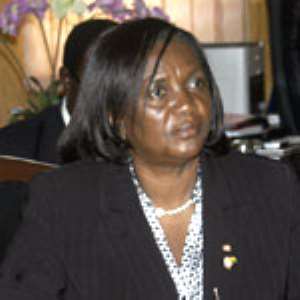 The Chief Justice, Mrs Georgina Theodora Wood, yesterday said what Ghanaians expected from the judiciary was nothing but quality justice. She said quality justice mattered most to the people as it helped bring about peace and tranquility that enabled them to develop in freedom.
Mrs Wood said this at the inauguration of District Magistrate's Courts at Jirapa and Nandom in the Upper East Region. It formed part of her one-day maiden tour of the Upper West Region to interact with personnel of the Judiciary to identify challenges facing them.
Mrs Wood called on personnel of the Judiciary to do more to bring quality justice to the people, saying, 'It is the right of the people to have it and we must also make sure it works for all categories of the people without discrimination.'
The Chief Justice said government was establishing courts in the districts to bring justice to the doorsteps of the people and urged them not do anything to divert the attention of judges from working efficiently.
Mrs Wood said it was the vision of the Judiciary to promote justice for all people to create enabling environment for good governance. She urged the personnel to work hard to enhance productivity, live above reproach and to deal compassionately with their clients.
Mrs Wood warned litigants to refrain from making the justice system 'dirty and unpopular' through corrupt practices. She bemoaned the deplorable conditions of some residential bungalows for magistrates and judges and appealed to public-spirited individuals and organisations to assist in improving the situation since government alone could not adequately do that.
Mrs Wood commended the district assemblies for helping to provide court buildings and residential accommodation for magistrates and judges.
Mr George Hikah Benson, Upper West Regional Minister, said the government would do everything possible to support the judiciary and its affiliate institutions to enhance good governance. He said the inauguration of the two courts marked the beginning of the dispensation of justice in the region.