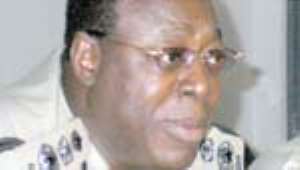 THE EASTERN Regional Police Command has warned criminals in the region to seek other havens because it will not give them any breathing space.
The command issued the warning after an emergency meeting at Koforidua last Friday involving all district and divisional commanders to map out a strategy to battle criminals in the region.
Briefing the media after the meeting, the Regional Police Commander, Deputy Commissioner of Police (DCOP) Felix Asare-Darko said the police would ensure that criminals were flushed out of the region and their activities brought to the barest minimum especially since Christmas was a few weeks away.
"From Begoro to Dadieso; Afienya to Asikuma; Nkawkaw to Donkokrom and Nsawam, wee cultivators; wee smokers; dealers in drugs and all kinds of criminals will be smoked out," DCOP Asare-Darko said.
According to the Regional Commander, the police would intensify its patrols, do snap checks and carry out unexpected swoops in areas known to be receptacles for criminals.
"We want to assure law-abiding citizens in the region to go about their daily activities during and after the Christmas festivities without fear because the police is on the red alert," he said, adding that visitors from abroad and other parts of the country should also feel secured to do their legitimate business in the region.
He said those who would be coming into the country for the Ghana 2008 soccer fiesta were also free to visit the region because the police were there to protect them.
"We are not going to compromise on security to ensure that law-abiding citizens are free to carry out their day-to-day activities".
DCOP Asare-Darko however appealed to citizens to co-operate with the police and freely give information to enable them function effectively.
From Thomas Fosu Jnr, Koforidua