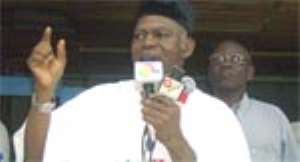 DR. EDWARD Mahama has again been given the nod to lead the People's National Convention (PNC) in the 2008 general elections during the fifth national congress of the party in Bolgatanga in the Upper East Region.
Dr. Mahama, who contested this year with Professor Yakubu Saaka, polled 534 votes as against 400 for his rival. According to some observers DAILY GUIDE spoke with, the contest was keen because it was the first time the leader had been given such a hot competition since he succeeded the late Dr. Hilla Limann.
A leading member of the Committee for Joint Action (CJA) and a former banker, Alhaji Ahmed Ramadan assumed the substantive office of the National Chairman after polling 495 valid votes against 217 and 252 for Dr. Edward Gyader and Thomas Akum Yong respectively.
The former National Youth Organizer, Mr Bernard Anbatayela Mornah demonstrated the love and support the delegates had for him when he whipped his superiors, Dr. Somtim Tobiga and Santuah Niaga with over 400 vote difference to become the National General Secretary of the party.
The Members of Parliament (MPs) for Bolgatanga and Sissala West, Hon David Apasera and Hon Bayirga Haruna did not leave anything to chance as they also swept the National Treasurer and National Organizer positions respectively.
Jubilant Hajia Ajara Ali calmly stuck to the position of Women's Organizer while Emmanuel Wilson became the new National Youth Organizer.
Though the election was peaceful, picture ballots were not used due to the time constraints faced by the party earlier as they battled their way from court. Candidates were only identified by numbers, creating problems for those delegates that were illiterate.
Dejection and disappointment was written on the faces of some candidates but when the leader of the party, Dr. Edward Mahama took to the stage to address the gathering, he called on the rank and file of the party to remain more united after the congress.
He said the party could boast of three achievements; first, the healing of self inflicted wounds of the party by the congress.
Secondly, the deepening of Ghana's democracy in the process and finally, the strengthening of the weak structures of the party by members out of perseverance and vigilance.
He slammed his detractors who wished for the party's downfall and predicted its continuous growth after the congress by winning many seats in parliament in 2008. Prof Saaka pledged his unflinching support for the flagbearer before and after the 2008 elections.
Present at the ceremony were representatives of various political parties and the General Secretary of the National Democratic Congress, Mr. Johnson Asiedu Nketia.
Mr. John Ndebugri, the MP for Zebilla was however missing in action. The elections were conducted by officials of the Electoral Commission under heavy security to forestall any violence.
From Stephen Zoure, Bolgatanga