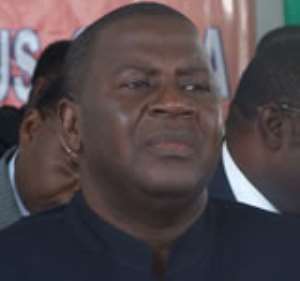 The Vice President, Alhaji Aliu Mahama, the man noted for his punctuality at functions, on Sunday surprised thousands of the New Patriotic Party faithful gathered at Kasoa in the Central Region when he broke state protocol to arrive ten long minutes after the President, John Agyekum Kufuor, had been seated.
According to The Heritage, so shocking was his late arrival that, for the first time, in the history of NPP rallies, the Vice President was not introduced to the gathering. Before his arrival, five of the aspiring flag bearers had spoken about their visions and missions for the NPP and the country at large.

But for his position in the line-up of aspirants billed to speak, the Vice President would have missed the chance to address the delegates and party faithful. According to the schedule, he was the 17th on the list.
Reasons for Aliu's late coming was not immediately confirmed but the party fans, journalists and leaders alike were now and again overheard conjecturing or gossiping about it. While some said he had haboured misgivings since the botched vetting he was to face at the party headquarters some three weeks ago, some others said he had misgivings over his placement (17th) on the list of those slated to speak.
Others said Alhaji Mahama arrived late without any malice at all. After all, there was no need for him to hurry, as several people would talk before him. His operatives in the constituencies, especially, assured inquisitive minds that all was normal.
That, nonetheless failed to answer why the unusual break in protocol arrangement by a man that had for seven long years gotten seated always before his boss, whenever both "were to meet at a public function.
In the main, all 17 aspirants promised to unite and fight their common enemy, which they say is NDC, after the December Congress.
Though Ex-Capt. Effah Dartey was disqualified by the vetting committee of the party; he was allowed to sing his usual song, "Ma Twen Awuradi Anim." (I have waited on the Lord).

President Kufuor expressed happiness over the assurances given by all the aspirants that they would continue to unite after congress.
The NPP has passed through thick and thin; therefore, the need to unite to continue the good work the government has chalked is more urgent than ever before, he said.
"The NPP is a government of hope to Ghanaians, looking at our track record during the past seven years," the three times NPP flag bearer said, adding "apart from the NPP there is no party that can boast of abundant competent people to steer the affairs of the nation," the president stated.
The party has achieved a lot within the past seven years; therefore there is the need also for all delegates to elect someone who can unite the party and win the next general election, he underscored, and implored would-be delegates to the party's congress to vote responsibly.