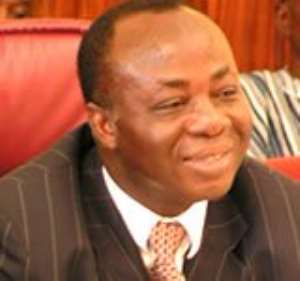 A heated argument exuded between some District Chief Executives and the First Deputy Speaker of Parliament Freddie Blay at a workshop that discussed the MPs share of the District Assemblies Common Fund and the challenge of Development at the grassroots.
While the District Chief Executives, DCE maintained that there is no legal document that allows MPs to access the fund and that it should be used to strengthen structures at the grassroots, the first deputy speaker insisted that the MPs have every right to access the fund to embark on projects to develop their communities.
The first Deputy Speaker who was the only MP at the workshop promised to take a critical look at the law establishing the District Assemblies Common Fund.
Explaining why MPs do not have the right to access the fund, former President of the National Association of Local Authorities Ghana, NALAG, George Kyei Baffour said the Public Procurement Law Act 665 states that MPs are not procurement entities and cannot be designated as such.
Mr. Kyei Baffuor said there is no provision in the constitution that confers the authority of development agents in the decentralized local government framework on MPs.
A lecturer at the Institute of Local Government Studies, Eric Osae-Oduro said because MPs are part of the assemblies they should be allowed to have access to an independent fund that runs along side that of the assemblies.
Mr. Osae-Oduro said allowing MPs to disburse the District Assemblies Common Fund could lead to the politicization of development projects, causing friction and misunderstanding between MPs and DCEs which could undermine the country's democracy and decentralization system.