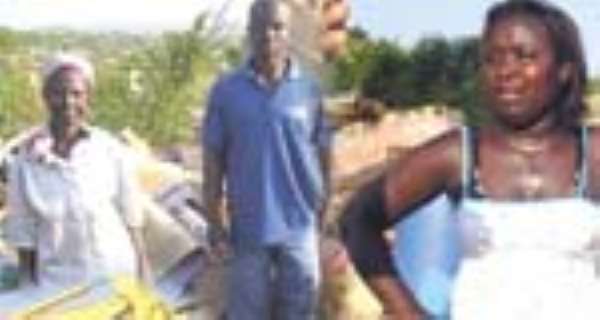 TEARS FLOWED unceasingly on Wednesday afternoon during a demolition exercise to clear unauthorized structures erected on a parcel of land acquired by the Ghana Water Company (GWC) at Weija, a suburb of Accra.
The affected houses were among some 2000 ones marked for demolition at the catchment area of the Weija Dam.
It was an atmosphere of anguish and sorrow as residents stared in utter disbelief as their lives' earnings went down in a storm of dust.
Most of the victims cried and cursed government, wondering why they were suffering so much in their own country.

Men, women and children were seen running through the dust to remove a few items they could lay hands on before the excavator strikes. Some were heard praying in tongues, probably asking God to touch the hearts of those who had come to break down their buildings.
Most of the affected residents, who were holding documents as evidence that they had legally acquired the land, argued that the three days given them to vacate the place was insufficient while others claimed that their houses had not even been marked for demolition.
An old woman, possibly in her 70s, who claimed her house had not been marked for the exercise, went down on her knees and pleaded with the GWC officials to give her a few minutes to pack her belongings out, but they would not listen.
She narrated that after teaching for 36 years, she retired in 2000 and used her end of service benefit to put up the house which was completed in May this year.
She said the land on which she put up the house was a gift from the chief of Weija, claiming it took her nine years to build the single room which had been destroyed.
The visibly shaken woman, who was beside herself with grief, said she had nowhere to go now so would sleep in the open with her items. She was of the view that the GWC personnel should have considered her age and spared her building, but this was not so.
"They only want me to die; yes, and I will die and go away. I wonder whether there is no mercy on this earth. Look at what they have done; what do they want me to do now?
I have taught Ghanaian children for 36 years and some of them are serving the nation at high places, but nobody recognizes me now. I am going to sleep outside for the government to be satisfied," she wailed.
One madam Vic and her brother collapsed when they heard that their storey building had been razed. They were however rushed to the Achimota Hospital for treatment.
A plumber's wife cried uncontrollably when their five bedroom apartment was razed to the ground, cursing the devil for the misfortune, while the man, Joseph Kwesi Amissah stood atop the rubble and gazed into the atmosphere in wonderment.
He told DAILY GUIDE that they had just given up their rented room at Teshie, a suburb of Accra, with the full hope of coming to live in a house they had toiled eight years to build.
A pastor, Apostle Onyina of the Christian Mission, whose brother's house was also demolished, blamed the incident on irresponsibility on the part of people at the helm of affairs.
According to him, if those whose duty it was to ensure sanity in the building sector were really effective, the unfortunate situation would have been averted.
He lamented that ironically, people who were failing in duty were those who received fat salaries from government, arguing that there was no way the people would build at a place they were not supposed to, if those responsible discharged their duties effectively.
"Go to any developed country and attempt putting up a building without the necessary documents, I tell you, the next day, police will be there to arrest you. Where were the authorities when these people were building the houses?
Ghana has irresponsible people at the helm of affairs which is making it difficult for the country to develop and the poor masses are suffering.
If there is anybody the state must deal with, it should be those at the helm of affairs because they are doing nothing and must not be paid."
Apostle Onyina, who suspected that the demolition exercise had political undertones, challenged the GWC officials to go and take care of the grave pollution currently going on around the Densu river at Nsawam, where he claimed people are living just about 10ft from the river.
By Mike Avickson