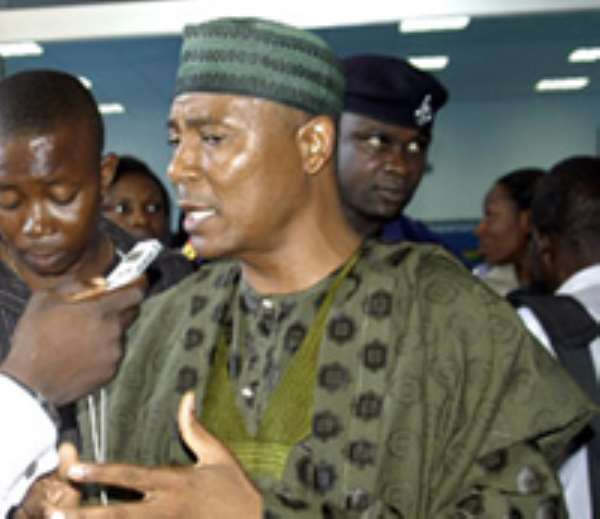 Alhaji Abubakar Saddique Boniface, Minister for Water Resources, Works and Housing has expressed concern about the attitude of some contractors in the execution of development projects.
He noted that their poor work ethics had contributed to delays in the completion of government projects on schedule.
Alhaji Boniface expressed the concern in an address read on his behalf by Mr Emmanuel Asamoah Owusu-Ansah, Ashanti Regional Minister at the second Annual General Meeting of the Association of Building and Civil Engineering Contractors of Ghana (ABCECG) in Kumasi in the Ashanti Region yesterday. The theme for the meeting was 'Sustaining the Building Construction Industry.'
Alhaji Boniface urged the contractors to use the association's code of ethics in addition to the establishment of national, regional and district monitoring teams to ensure projects were completed on schedule. He said contractors as service providers were faced with challenges including low capacity skills and absence of technical personnel in contract management that had resulted in poor performance.
Alhaji Boniface appealed to them to develop strong partnership with government to realise targets set in the construction industry. He stressed the need for the establishment of joint ventures and pull their resources both human and financial, plant and equipment together to improve their performance.
Alhaji Boniface announced that to ensure standards and procedures were adhered to, the Ministry in collaboration with Ministry of Local Government, Rural Development and Environment had embarked on training programmes to revive the training of Building Inspectors to strictly enforce new Building Code and Regulation. He said government had instituted measures to address delays in payments to contractors.
Oheneba Asampong Boakye, who represented Otumfuo Osei Tutu II, Asantehene, expressed concern about shoddy works by some contractors and development of structures along waterways in Kumasi Metropolitan Area. He advised them to stop such practices to sustain the construction industry in the country.
Mr Samuel Obeng, National President of ABCECG said payment of dues was a major problem affecting their operations, therefore the Ministry had endorsed compulsory deductions at source from payments on certificates for contracts. He appealed to government to ensure contractors were paid promptly for contracts to enhance their performance.