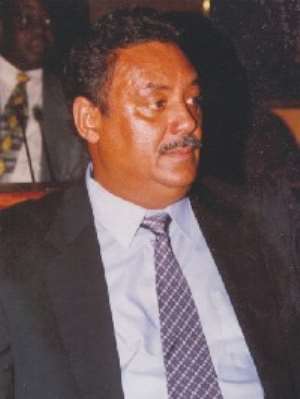 Jake Otanka Obetsebi-Lamptey, one of the 18 Presidential aspirants of the ruling New Patriotic Party, on Monday said when voted into power in 2009, his government would make use of local building materials to revive the social housing scheme that would make houses affordable to Ghanaian workers.
"When I am voted into power I will lead the way in the use and promotion of local building materials in the provision of public building infrastructure, which would reinforce the confidence and deal with the negative perception of local material as inferior," he said.
He made the promise during his tour of the Eastern Region, where he met some foot soldiers, constituency executives, polling station chairmen and opinion leaders of the party.
Mr. Obetsebi-Lamptey noted that one of the basic aspirations of every Ghanaian worker was to retire into his own home, but attempts by previous governments to put sustainable social housing schemes in place had failed due to the extensive use of imported building material to construct houses meant for low income Ghanaian workers.
"Dr Nkrumah tried with the State Housing Corporation, Acheampong also set up the Bank for Housing and Construction, with REDCO to provide affordable housing for the people, the Home Finance Company also came under the PNDC/NDC regime…." he said.
He noted that no affordable housing scheme could succeed anywhere that 90 per cent of the building materials was imported, especially in Ghana where the cedi has kept depreciating against almost all the foreign currencies.
Mr Obetsebi-Lamptey said the mortgage scheme being run by HFC would have helped if income levels had been generally good, but as it was now most Ghanaian workers were not able to afford mortgage loans to afford these houses.
He said studies had shown that if a decent two-bedroom home could be built at a cost of between nine thousand US dollars and $25,000, most Ghanaian workers would only have to set aside one-third of their salaries over a minimum period of five years to raise at least 20 percent of the cost to afford a mortgage.
Mr Obetsebi-Lamptey cited lack of political will to promote the use of local building materials as the reason housing and mortgage schemes had always failed and thereby deprived the greater chunk Ghanaians from having access to their own homes.
He recalled that, historically, the colonial masters used the local materials for the construction of houses for middle and lower income workers at Asawase, a suburb of Kumasi and for Achimota School, among others.
He pointed out that all of these have remained as testimony to the efficacy of local building materials.
"Those houses are there up till date and they serve as living testimonies for us to turn our attention to our own local building materials to fuel our affordable housing scheme," he said.
Mr Obetsebi-Lamptey said the additional benefit from the use of local technology and local materials was that it also afforded local people on the job skills training.
By Ghana News Agency