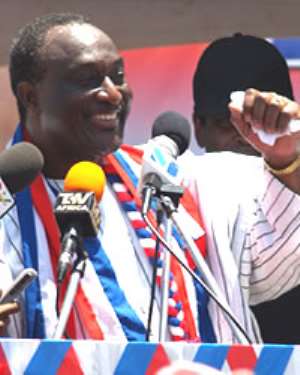 As the epic battle for the New Patriotic Party's nominee for the 2008 presidential election heats up to boiling point, even some aspirants who had hitherto been considered to be levelheaded and winsome have, quite predictably, began showing signs of cognitive – or mental – fatigue. They have began making the sort of public statements that ought to make sympathizing voters think twice, or even thrice, before offering their decisive mandate to any of these aspirants. The latest casualty of such political faux-pas is Mr. Alan Kyerematen, a relatively young aspirant with an otherwise quite impressive personal and professional portfolio.

In both the Ghanaian Statesman and the Ghanaweb.com editions of November 27, 2007, the largely Asante-born and raised Mr. Kyerematen was reported to be intent on capitalizing on his purported Fante ethnic affiliation to clinch the presidential nomination of the ruling New Patriotic Party (NPP), come December 22, 2007, when NPP delegates meet in Ghana's capital city of Accra to select the party's flag-bearer.

The problem with playing the ethnic card, so-called, is that as a multi-ethnic nation and society, the last thing that Ghanaian voters ought to be having on their minds is the micro-ethnic, or sub-ethnic, background of their next president. Rather, Ghanaian voters ought to be looking forward to electing a president whose priority lies squarely in the salutary realm of collective national development.

This simply means that any candidate nominated by the ruling NPP to lead the party into the 2008 presidential election ought to be thinking about the collective – or general – welfare of each and every Ghanaian – vis-à-vis qualitative and ready access to such modern amenities as healthcare, education, transport and communication, mechanized agriculture, among a plethora of national endeavors – rather than whether the prospective presidential candidate, or substantive president, for that matter, has a mixed Akan cultural or biological heritage.

For starters, there is absolutely no such thing as a person of "mixed Akan cultural heritage"; for you are either an Akan or you are not. And so it is rather unfortunate, if not outright unpardonably myopic, for anybody seeking the mandate to govern a multiethnic Ghana to be predicating, even partially, his/her qualification for the presidency on the basis of a mixed ethnic,or cultural, heritage. It is also unforgivably pathetic – and outright embarrassing – f or such atavistic thinking to be lingering among the ranks of the proverbial cream of Ghanaian society at a time when Africans, in general, are steadily moving towards regional integration and continental political unification.

Secondly, Mr. Kyerematen, as aforementioned, insults the intelligence of Fantes by campaigning with the rather unenlightened agenda of becoming "The First Fante President" because, going strictly by Akan customary tradition, which is matrilineal, Alan Kyerematen is a bona fide Asante. And so the exuberant aspirant cannot readily presume to fool any culturally knowledgeable Akan, least of all Fantes, the very people whose pioneering president he fain would be crowned.

In brief, Candidate Kyerematen appears to be dancing to some remote Fante "Asafo" – or traditional military – tune which only our protagonist alone can hear. And he is doing so evidently because as a bona fide Asante, both by birth and upbringing, Mr. Kyerematen knows fully well that the presidency of Mr. J. A. Kufuor, which duly ends at the close of 2008, makes it highly unlikely that the Ghanaian electorate would proffer its sacred mandate to another Asante so soon. The logical reasoning, on the preceding score, and a practically tangible one at that, is that presidential acumen or talent is not the especial prerogative of any single ethnic or sub-ethnic nationality.

Thirdly, singling out Fantes in relation to the presidency, also recalls certain patently unsavory historical facts and realities which most Ghanaians would rather have remain in the regrettable past. And, of course, in this particular context, the allusion is to the fact that Ghanaians have already had a whopping three substantive Vice-Presidents – namely, Dr. DeGraft Johnson, Mr. Nkensen Arkaah and Prof. John Evans Atta-Mills – with impressive profiles but none of whom really registered any remarkable footprints in the sands of postcolonial Ghanaian politics, with two of them even being cynical enough to have championed the sanguinary cause of a brutal military dictator.
The other one, even as the infamous Mr. Rawlings aptly observed, in the wake of the latter's December 31, 1981 putsch against the weak-willed, albeit democratically elected People's National Party (PNP) government, led by Dr. Hilla Limann, threw professional caution to the wind, as a first-rated Civil Engineer, by blindly following some local Ghanaian chiefs to the Asuoyaa district of the Eastern Region to do libation near an accident-prone railroad. The problem, it sadly turned out, was one of architectural deficiency than cosmic – or metaphysical – imbalance, as the public had been erroneously given to understand.
In sum, the cynical and, perhaps, quite plausible argument could be that our ample experience with these three "Fante" Ghanaian Vice-Presidents does not sanguinely point to the probability of a Kyerematen Administration being one to studiously look forward to, or even bate our breaths in anticipation of.
What makes for cognitive tranquility, though, is the fact that contrary to what Mr. Kyerematen would have his supporters and sympathizers believe, the Fantes are, perhaps, the most sophisticated of Ghanaian voters. And they well deserve such accolade because modern Ghanaian politics, itself, began in the Central Region, both from the Western and African purviews. And so to have Mr. Kyerematen make a mockery of such enviable record is one that must be roundly condemned. Besides, after the epic achievements of Nobel Peace Prize laureate Mr. Kofi Annan on the global diplomatic and political scene, do Fantes, really, need a Kyerematen presidency to enable them to feel their sociopolitical and cultural heft in both global and local affairs?
Indeed, charity ought to begin at home; still, the concept of "home" that Ghanaian voters need from one who would be their leader, their president, to wit, is one that envisages their entire country as one big home or castle.
The seamy side that playing the so-called ethnic card entails – and there is, of course, absolutely no constructive side or dimension, whatsoever – is that it poignantly points to the woeful and abject personal and professional inadequacies of the unfortunate player of such card. It is also a patent no-brainer for anybody to shamelessly portray a purely "intra-ethnic" cultural, or even genetic, admixture as giving occasion to the obviously gratuitous celebration of "Ethnic Balance." For, needless to say, one's ethnicity or cultural heritage (in a typical traditional society such as Ghana's) is not voluntarily chosen, and thus warranting any applause from the Ghanaian electorate.
And on the latter score, we must also caution those Aliu Mahama operatives and "spinmeisters" who go about their paid gigs shamelessly pretending as if Vice-President Mahama, a bona fide Dagomba native, is representative of all northerners. Nothing could be farther from the truth. And needless to say, there is absolutely no such scientifically verifiable identity as a "Northerner"; for northern Ghanaians are as ethnically diverse as the rest of all other Ghanaian citizens cross-regionally and nationally. It is also high time that this nonsense about "Electoral World Banks" got permanently retired; for not only does it reflect a neocolonialist mentality, it also unforgivably insults the intelligence of the Ghanaian electorate. And moreover, it is clinically unsound, being that it verges on the irredeemably idiotic.
*Kwame Okoampa-Ahoofe, Jr., Ph.D., is Associate Professor of English and Journalism at Nassau Community College of the State University of New York, Garden City. He is the author of "When Dancers Play Historians and Thinkers," a forthcoming essay collection on postcolonial Ghanaian politics. E-mail: [email protected]