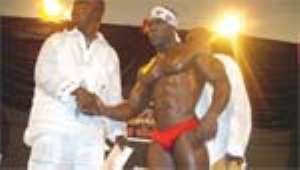 A RENOWNED Professional bodybuilder in the Middleweight division, Christopher Antoh last Friday put up a splendid performance to emerge winner of this year's MAN GHANA championship held at the Osu Presbyterian Church Hall in Accra.
The six-hour competition was attended by some personalities including Ahmed Issaka, Public Relations Officer of the National Sports Council (NSC), Kwame Owusu Ansah, a renowned movie star and Mr Abdul Hayye Yartey, Chairman of the Ghana Bodybuilding and Fitness Association (GBFA).
The event witnessed 24 athletes in all competing for the championship- nine in the Lightweight and Middleweight divisions, five in the Heavyweight and only one athlete in the Super Heavyweight division, Kofi Salia from Kumasi who weighed 96 kilogrammes and was automatically honoured with a medal, a certificate of participation and dietary supplements.
According to Mr. Yartey ¢12.5 million was spent in the organization of the contest.
Christopher Antoh who weight 80 kilogrammes beat favourites like Cornelius Ankrah, Arnold Aryee and Mustapha Richardson, all professional athletes from the Heavyweight division.
Antoh, who was also adjudged the best dancing pose athlete, took home a trophy, a gold medal, a certificate of participation, a cash prize and dietary supplements.
Other contestants including Mustapha Richardson and Cornelius Ankrah who placed second and third respectively were also given cash prizes, certificates of participation, medals and dietary supplements.
By Pierre Toto