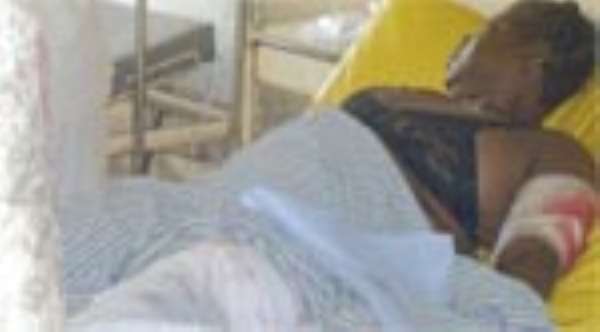 The Kamina Barracks housing the 6th Battalion Infantry in Tamale was plunged into a state of shock and awe when a soldier opened fire on a colleague, killing him instantly, in yet another case of bizarre shooting that has rocked the country in recent times.
Corporal Kojo Kwakye was said to have killed his superior, Sergeant Stanley Afriyie, over a ¢2million debt after which he reportedly turned the muzzle of the gun on the deceased's household, pumping bullets into the arm and thigh of Sgt. Afriyie's wife, Monica, and her 16-year-old daughter, Hannah, without provocation.
He has since been arrested and detained in a guardroom.
The horrific incident happened on Tuesday evening after church service when Cpl. Kwakye stormed the residence of his victim at the military barracks Block A1, wielding a fully-loaded G3 gun.
At a close range, he shot the superior officer in the chest and arm, sending him down immediately. The wife of the deceased, who had heard the unusual noise, quickly dashed to the room only for her to be shot in the arm.
Sensing danger, she tried to escape but was given another shot on the thigh.
Hannah, who had by then returned from an errand, was not spared the ordeal as she received bullets on the buttocks and private parts.
Cpl Kwakye immediately went into hiding after the cowardly act and was apprehended during the early hours of yesterday.
According to pieces of information gathered by DAILY GUIDE, Sgt Afriyie was said to have taken ¢2million from the suspect to enable him to resolve some pressing financial problems.
He however travelled to Lebanon on a peacekeeping operation without offsetting the debt he owed.
While Sgt Afriyie was away, it was learnt that Cpl Kwakye managed to withdraw an amount of ¢1.6million from the former's salary account.
Immediately she went to take her husband's salary, Monica was informed that Cpl Kwakye had withdrawn the said amount, but when she confronted him, he denied any knowledge of the withdrawal.
On Sgt. Afriyie's return from Lebanon however, the assailant admitted withdrawing the money but insisted that interest had accrued on the principal, demanding ¢5million instead.
DAILY GUIDE learnt that the deceased entered into new terms of payment and pleaded with the suspect to give him some time since he had just returned from Lebanon and was yet to clear his goods from the port.
Cpl Kwakye was said to have agreed but alleged to have constantly threatened the deceased with death if he did not pay up his debts, resulting in the fatal shooting incident last Tuesday.
Sgt Afriyie's body was deposited at the Tamale Teaching Hospital mortuary for autopsy, while his wife and daughter, currently in critical condition, had been flown to the 37 Military Hospital in Accra for further treatment.
As at press time yesterday, DAILY GUIDE learnt that the suspect had been detained at the barracks pending further investigations.
From Stephen Zoure, Tamale