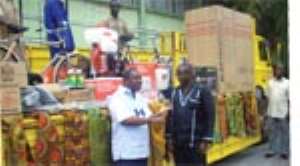 Five companies, as their contribution towards the celebration of this year's farmers' day, last week donated various items worth millions of cedis and some cash to the Ministry of Food and Agriculture.
The items were made up of fertilizers, outboard motors, insecticide spraying machines, bicycles, fridges, cloths, and cocoa products among others.
Ghana Cocoa Board (COCOBOD), Wienco, Ghana Ports and Harbours Authority (GPHA), Fan Milk, State Insurance Corporation (SIC) and Green Grow Limited made the donations.
COCOBOD donated items worth ¢368 million and also pledged "a brand new pick-up and a fully paid trip to the annual Agric Show in London for this year's best cocoa farmer."
While SIC donated a cheque for $2,720 for this year's national best farmer's trip to the Agric Show in London, together with a travel insurance, Wienco donated items worth ¢60 million plus ¢50 million cash.
Clement Eledi, a Deputy Minister of Food and Agriculture in charge of Crops commended the donors for their continuous support and assured them that the items will be used for the intended purpose.
By Patrick Baidoo