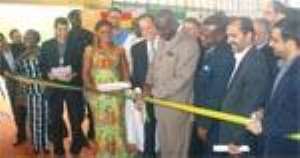 The Export Promotion Bank of Iran has made available $20 million credit facility to government for onward disbursement to businesses which will import goods from Iran.
Joe Baidoe-Ansah, Minister of Trade, Industry and PSI disclosed this at the opening of the 1st Iranian Solo Exhibition in Accra.
"Iran has made available $20 million credit facility for which negotiations for its sourcing are about to be concluded by some banks in the country. There is an indication that the Iranian government will increase the facility to $30 million."
He said the exhibition was in line with his outfit's policy of rejuvenating the nation's policy of 'New Industrial Reform and Accelerated Growth Programme,' which is export-oriented and focuses primarily on agro-processing and other manufacturing activities.
The Minister added that the second phase of the policy would be centered on domestic, market-oriented industrialization, which targets the production of a substantial amount of non-petroleum government imports, as well as a range of processed foods and agricultural products imported by individuals and businesses.
Mr. Baidoe-Ansah encouraged the Iranian exhibitors to invest in the country since the environment was conducive.
The Iranian Ambassador, Valiollah Mohammadi said there was a lot of industrial progress ongoing in both Ghana and Iran that could be tapped, but the lack of knowledge about the operations of each country was the obstacle.
"The obstacles need to be removed," he stressed.
The total volume of trade between the two countries appreciated from $52.7 million to $107.7 million in 2002 and 2003 but declined to $69.3 in 2005.
Cocoa and cocoa products, ceramic products like wall tiles, sinks and carpets were the major products traded between the two countries.