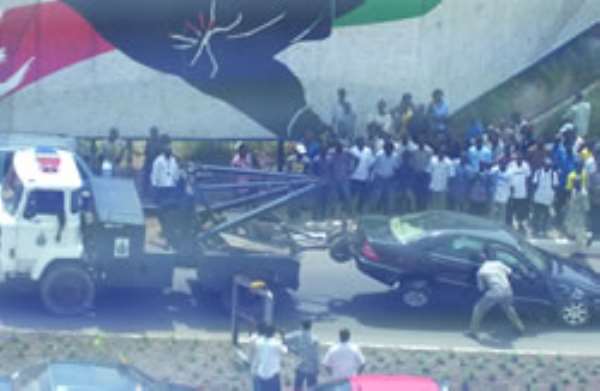 The man who drove his car into the presidential motorcade, resulting in an accident, has expressed his apology to the President, Mr John Agyekum Kufuor.
Mr Kwame Boafo Akuffo, counsel for Thomas Osei, said his client had instructed him to write to the President to apologise on his behalf for the unfortunate accident.
Speaking to the Daily Graphic, Mr Akuffo said his client had agreed to bear the cost of repairs of the damage caused to the vehicles involved in the accident.
According to Mr Akuffo, his client had also accepted to pay the medical expenses of those injured as a result of the accident.
He said Mr Osei did not bear the President any malice.
Mr Akuffo said his client was thankful to God for the stable health of the President and his family, adding that a letter to that effect would be delivered to the President by the end of the week.
The President, on November 14, 2007, escaped unhurt when a black Mercedes Benz car driven by Mr Osei rammed into his convoy at the Silver Star Towers Intersection, on the main Airport/37 Military Hospital dual carriage way, causing the President's car to somersault three times.