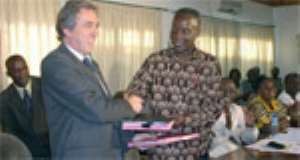 THE GHANA government and the European Commission have signed a €8 million (GH¢9.6 million) grant to support the cocoa sector and the Ghana Police Service.
As part of the agreement, €5 million would be used to support the cocoa sector while the other €3 million would go to the Police Service.
The €5 million grant, which is expected to support an initial programme in the cocoa sector, is dubbed, "Cocoa sector support programme phase II", and projected to be executed within four years with the aim of improving the livelihood of small holder cocoa farmers.
It would also help sustain cocoa production in the country.
Finance and Economic Planning Minister, Kwadwo Baah-Wiredu who initialed on behalf of Ghana explained that the Cocoa Sector Support Programme Phase II would focus on addressing the environmental and social impacts of cocoa production, strengthening the management capacities of existing and emerging cocoa farmers as well as community-based organizations.
Filiberto Ceriani Sebregondi, Head of the European Commission in Ghana, who signed the agreement on behalf of the European Union, said the support to the cocoa sector would help reduce income vulnerability and thereby improve livelihoods in line with Ghana's will to improve competitiveness, foster growth and become a middle-income country.
Commenting on the financial sector, William Mensah, Deputy Chief Executive Officer of the Ghana Cocoa Board (COCOBOD), who was also present at the signing ceremony, explained that the COCOBOD would implement the first component aimed at improving farmer's access to high quality hybrid planting material.
The second and third components, Mr Mensah said, would be implemented by the sustainable Tree Crops Programme, a consortium bringing together players in the chocolate industry, producers, researchers, government agencies and conservation people.
Ghana has so far received a total of €315.6 million (GH¢440 million) from the European Development Fund through this assistance.
By Emelia Ennin