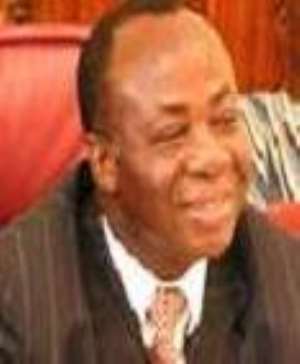 The First Deputy Speaker, Mr Freddie Blay, has reminded politicians to avoid embarking on ventures that will derail the gains the country has made so far.
He said it was important for politicians to work towards reducing tension within the body politic, particularly as the country drew closer towards the 2008 general election.
Mr Blay was opening a two-day post-budget review workshop for the leadership of Parliament and some selected officials of ministries, departments and agencies (MDAs) in Koforidua in the Eastern Region on Saturday.
The workshop, which was funded by the Canadian International Development Agency (CIDA) and USAID through the Canadian Parliamentary Centre, will for the first time provide a forum for MPs to gain inputs from MDAs, which would provide a background to committee hearings for the sectors.
Mr Blay stated that the provision of programmes such as the tarring of 15 kilometres of roads in all the 166 districts and the provision of drinking water and electricity for five communities in every district were laudable.
'If these projects are implemented effectively and efficiently as projected, they will boost development in the districts and also catalyse the reaping of other benefits," he said.
Mr Blay, however, questioned whether these projects were achievable and called on the MPs, as the representatives of the people, to passionately debate them on the floor of the House.
He added that the special initiative on the sustainable development of northern Ghana was significant in the budget, saying that the development gap between northern and southern Ghana "must be confronted head-on".
Mr Blay called on MPs to assist the executive arm of government through comments, constructive criticism, monitoring and evaluation to keep the country's vision of reducing poverty and achieving a middle-income status on course.
He stated that Parliament needed to strengthen its oversight responsibilities over the MDAs, adding that that "responsibility is not a policing responsibility but a participatory governorship responsibility".
For his part, the Majority Leader and Minister for Parliamentary Affairs, Mr Abraham Ossei Aidooh, urged his colleagues to critically analyse the budget document in order to offer meaningful suggestions and alternatives during debates on the floor of the House.
The Minority Leader, Mr Alban Bagbin, said that Parliament needed to be strengthened so that it could properly exercise its oversight responsibilities on the MDAs to reduce waste in the system.
He noted that the recent public hearing of the Public Accounts Committee had given the image of Parliament a boost in the eyes of the public, adding that Parliament could perform better if it was properly resourced.
The Minister of Finance and Economic Planning, Mr Kwadwo Baah-Wiredu, said the government was investing more in the energy and road sectors to serve as a catalyst for the development of other sectors of the economy.