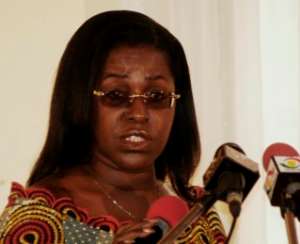 Mrs Oboshie Sai Cofie, Minister for Information and National Orientation
Government has reviewed the situation in the Anloga township and its environs in the Volta Region and has extended the curfew for a further seven (7) days, commencing Friday, November 23rd, 2007. The duration of the curfew has also been reviewed, and now is from 9p.m. to 4a.m. each day.

A release signed by Hon Minister for Information and National Orientation, Mrs Oboshie sai Cofie, today in Accra says "It is appreciated that the present peace and tranquility, since returned to the area, will be sustained.
"This further extension has been necessary for a sustained state of calm and security.
"Government again would like to acknowledge the cooperation enjoyed from the elders and people of Anloga and surrounding areas, in maintaining the peace," The statement noted.