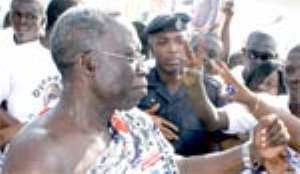 THE LEADERSHIP of the majority side in Parliament has effected some changes in the membership of some Committees of the House.
Those affected include Hon. Yaw Osafo-Maafo, Member of Parliament (MP) for Akyem Oda and one of the New Patriotic Party's (NPP) 18 presidential aspirants.
The Majority Leader, Hon. Abraham Ossei-Aidoo announced the changes on the floor of the House when he moved the motion for the adoption of the report of the Committee of Selection on the Composition of Committees.
Hon. Osafo-Maafo replaces Yaw Asiedu-Mensah, MP for Dormaa West, on the Environment, Science and Technology Committee while the Minister of Defence, Hon. Albert Kan-Dapaah, replaces J.B. Danquah Adu on the same Committee.
Asiedu-Mensah, on the other hand, replaces the late Akwasi Afrifa of Fomena on the Subsidiary Legislation Committee.
The Defence Minister is replaced by Hon. P.C. Appiah-Offori on the Roads and Transport Committee and P.C. becomes the Chairman of the Food and Agriculture and Cocoa Affairs Committee.
He also replaces Dr. Mathew Antwi on the Special Committee on Poverty Reduction Strategy as Chairman. Dr. Antwi replaces Hon. Isaac Edumadze as member on the Education Committee.
The MP for Cape Coast, Hon. Christine Churcher, replaces Osafo-Maafo on the Communication Committee, whose new Vice Chairman is Ben Kofi Aryeh.
In another development, the Minister of Education, Science and Sports, Professor Dominic Fobih, disclosed that it was the policy of the Ministry to ensure that all schools have buses for the enhancement of their smooth operation.
According to him, as part of this policy, an exercise had been conducted to ascertain the number of schools in need of buses but due to budgetary constraints, the Ministry had phased the procurement of the buses and hoped to complete the exercise within two years.
He also stated that it was the policy of government to upgrade at least one senior high school in each district to a model status but the programme will also be implemented in phases.
Prof. Fobih was answering questions posed by Hon. Wisdom Gidisu, MP for Krachi East, and Hon. Isaac Kwame Asiamah, MP for Atwima Mponua, on the floor of Parliament.
In addition, Godfrey Tangu Bayon, Minister of State for Transportation, was also put through a series of questions by the other MPs.
He cited that there was a termination of some of the contracts with contractors for none performances, which resulted to the incompletion and delays of several of the country's road projects.
By Sylvanus Nana Kumi & Ethel Kangberee