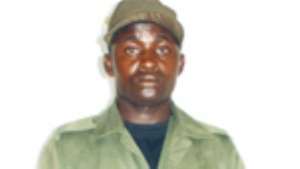 LUCK ELUDED a 22-year-old welder, who posed as a soldier at the Takoradi market circle, when he was spotted by an officer of the Air Force Station in Takoradi on 19th November this year.
Joseph Darko, who claimed he was a student of Kaneshie Technical Institute in Accra and on attachment at Base Workshop at Burma Camp, was also carrying a military bag.
Briefing DAILY GUIDE at the weekend in Sekondi, Supt. Dennis Abade, Western Regional Crime Officer, said on that day, the Air Force officer saw Darko in full military uniform, but suspected him to be an imposter because that attire, popularly called "Green Oliver", was no longer in use.
The uniform, according to the Air Force officer, was currently used for operational exercises and more so, Darko was not wearing any belt, which a professional soldier would not do.
When asked where he got the uniform from, Darko answered that a military officer in Accra gave it to him as "working gear".
The suspect added that he admired the military work and started putting it on in Accra and subsequently brought it to Takoradi.
Darko admitted the offence of posing as a military man after he had been escorted to the police and interrogated.
According to Supt. Abade, a few people hinted the police that Darko had been going round Takoradi, telling friends and unsuspecting persons that he was a fully-fledged soldier who had been stationed at Tamale.
He said on 21st November 2007, Darko was put before a magistrate court in Sekondi presided over by Mr. Tsatsu Azuma, where the accused pleaded guilty.
Convicting him, Mr. Azuma said many people were using military uniforms to engage in all sorts of atrocities, and initially remanded Darko into police custody.
The magistrate later ordered that Darko should be put before a circuit court in the Sekondi-Takoradi metropolis on December 6, 2007 for sentencing.
From Sam Mark Essien, Sekondi