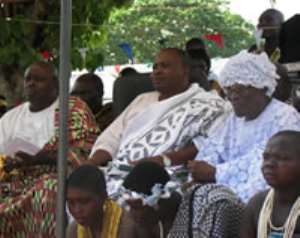 The Ministry of Information and National Orientation has announced a reviewed curfew for the Anloga township and its environs.
A statement issued on Monday and signed by the Minister, Mrs Oboshie Sai-Cofie, said the reviewed curfew would be in force for seven days between 9pm and 4am each day starting from last Friday, November 23, 2007.
The statement explained that the current extension was necessitated by the need to sustain the state of calm and security in the area and expressed the hope that the present peace and tranquility will be sustained.
"Government again would like to acknowledge the cooperation enjoyed from the elders and people of Anloga and surrounding areas, in maintaining the peace," the statement said.
A bloody clash in the Anlo Traditional Area occurred over the nomination, confinement and installation of an Awoamefia, resulting in the death of five people, including a policeman.
Following the clash the Government on November 2, 2007, by Executive Instrument imposed a dusk to dawn curfew on Anloga and its environs to ensure peace, law and order in the area.
Meanwhile post-mortem for the four civilians who died during the chieftaincy clashes on November 1 is to be carried out on Thursday.
The families of some of the victims have demanded a delay in the post-mortem after accusing the police of removing the bodies from the Keta and Ho hospitals without informing them.
Four people including the police officer died during the riot while the fifth person died in Ho while in police custody.
A deal was reached between the police administration and the families. The post-mortem for the five, including the policeman to ascertain the cause of death was originally scheduled for Monday. But a spokesperson for the families, Raymond Okudzeto says they have reached a deal with the police to have the post-mortem done on Thursday at the Korle Bu Teaching Hospital.

Families or the victims are expected to appoint an independent pathologist to be part of the process because they say they cannot rely solely on the police.
Meanwhile, the police service says a post-mortem has been performed on Moses Depah the police officer who died during the Anlo clashes and will publish the results when it is ready.