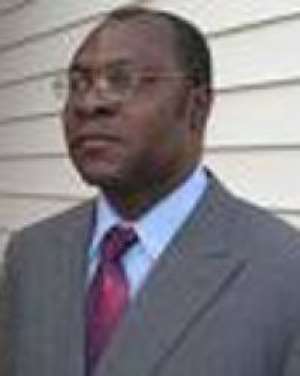 Dr. Arthur Kennedy
– Dumps party foot soldiers after winning power
– Practising `power for those in power`
A medical doctor and one of the NPP presidential hopefuls, Dr Kobina Arthur Kennedy has assured footsoldiers of the party that he would never abandon them if he is elected flagbearer and subsequently, as President of Ghana.
He said when NPP was in opposition they promised to ensure unity and compassion for all foot soldiers and Ghanaians as a whole, but after winning power the party started practising what he termed as "power for those in power".
Addressing a handful of his party people in Bolgatanga, he promised to consult party executives in the appointment of DCEs and regional ministers when voted President. They would be the ones to present the list of the people they would like to be their DCEs and regional ministers for him to approve of, he stated.
Dr Kwabena Arthur Kennedy also cautioned NPP delegates who would be voting to elect their presidential candidate to be mindful of some of the aspirants who have been going round splashing money on them because the source of the money could be a questionable one.
He regretted that people are only interested in the money being displayed by these aspirants without bothering to find out the source the money was raised from. If we do not take our time, one cocaine dealer would just take his money and buy this country and put our lives in danger,he said. He therefore advised the delegates to vote according to their conscience to elect the right leader who would be capable of leading the country.
Arthur Kennedy said opinion polls that were putting some of the aspirants ahead of others were faked. He alleged that some of the aspirants had paid money for the polls to be conducted in their favour. According to him, he was approached by one of the conductors of the polls to pay money for him to be put ahead of others but he refused.
He said if he is elected as flagbearer, he would appoint 3 chiefs of staff and deputies to ensure that things were more decentralized. In other to be acquainted with the problems of the party and the national executives, he said he would visit the party's headquarters once in a week.
The aspirant regretted that too many people were dying in Ghana as a result of dirt, especially in the cities. He observed that, it was difficult for people in Accra and Kumasi to respond to nature call as a result of inadequate toilet facilities, thereby resulting in indiscriminate excreting of human waste. These were causing cholera, malaria and typhoid. Lunatics were also going about polluting the environment.
He promised to build these facilities in the universities and other tertiary institutions as well as all filling stations throughout the country. He would also launch a nationwide hand wash campaign. He also promised to invest in the education of the poor to reduce crime in the country.
Dr Kwabena Arthur Kennedy advised all politicians to stop trading insults on one another and focus on fighting corruption saying, insults have never healed the sick, neither built a bridge nor fed a hungry child. He said he would also use technology to create jobs and bring about development.
He also noted that with the right combination of technology, the three northern regions could feed the whole of Africa forever. Frustrated over the country's underdevelopment despite its rich natural resources, Dr Kennedy said, want to be President because if I have power, I can transform this country.
The medical doctor said he had a good relationship with all the aspirants and if he were made the flagbearer of the party, it would be easier to receive and work with them.
He dismissed assertions that he was too young to become President, citing Dr Kwame Nkrumah, Tony Blair, Bill Clinton and others who became rulers and leaders of their countries at a young and tender age.