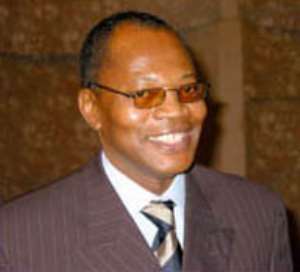 The President of ECOWAS Commission, Dr Mohammed Ibn Chambas, on Saturday welcomed the rebirth of a Pan African organisation called the International Action Service (IAS), an initiative that works to free the African continent from the shackles of misery and poverty.

Launching the organisation in Accra, Dr Chambas said, the IAS initiative that sought to fight misery and poverty in all forms on the continent through the empowerment of the youth "has a strong agenda to Africa's problems that require the support of all nations and donor organisations.

In a speech read for him by Dr. Christian Kpoda, Dr Chambas said the world was changing and globalisation was creating a gap among rich and poor but noted that a common denominator or cherish value of most religion and society was assistance to the poor and the underprivileged.

He said women constituted 70 percent of the world's 1.3 billion absolute poor and the highest rate of informal economic activities occurring in South Saharan Africa with 78 percent of working population performing work on an informal basis.

Dr Chambas said a unique feature of the IAS initiative, which has its headquarters in Accra, was that it was the brainchild of an African who believes that Africans were capable of helping themselves to come out of poverty and deprivation.

Professor Anthony Ewoe, Founder and Executive President of IAS said the formula to solve the poverty equation on the continent was to develop the interest of the youth in intensive agro-pastoral farming, which could be achieved through a modest remuneration.

He said IAS strategy to reach the grassroots for development would be to open 10 regional accounts with a financial institution to champion the cause.

Prof. Ewoe said Regional, District and Local Executive Boards would be set up to monitor all activities of IAS in their respective areas under the auspices of National and International Executive Councils.

"With the above organisational structure, we hope you would all understand the need for collaboration with people from all social strata to impart our positive experience to the youth," he said.

Prof. Ewoe also indicated that an immediate intervention would be to focus on the rehabilitation and provision of shelter for female porters (Kayayei) in Accra.

Supporting the initiative, Mr. Mohamed Mahmoud Ben Labat, Dean of the Diplomatic Corps said government alone could not do it, therefore such contributions from other bodies must be embraced and lauded.

He said, even though Africa was facing stiff challenges, there appeared to be a strong growing common understanding among its leaders which was good.

"Africa's youth is poised to take their destiny into their own hands because many believe that Africa is a place of excellence and creativity," Mr Ben Labat said.

"Africa's development depends on Africans and the IAS needs our total support so that our youth will be mobilised to create wealth for the continent.

"Let's come together to make this continent a paradise for the youth," he said.
Giving the background to IAS, Mr Samuel Okraku, Executive Vice President of IAS-Ghana said the Service was founded in January 2001 with members from seven countries including; Ghana, Nigeria, Togo, Burkina Faso, Cote d'Ivoire, Benin and South Africa in collaboration with some traditional and religious leaders as well as statesmen.

He wondered: "How could mother Africa be pregnant with abundance of resources and her children die of starvation and faming, thirst and water related diseases.?"

This according to him must be food for thought to all as they joined hands to support IAS because there was a new African who was capable of ruling his own affairs.