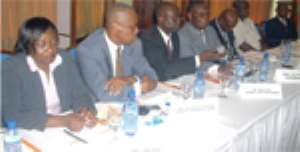 Social Security and National Insurance Trust (SSNIT) has seen its investment income appreciating significantly by a 71.53 percent to ¢1.313 trillion, from ¢765.62 billion in 2005.
Importantly, the total income from investment accounted for 31.15 per cent of total revenue of ¢4,215.36 billion that accrued to the trust.
On the other hand, the Trust Fund also witnessed a steady growth through 2006 with a year-end fund size of ¢11.82 trillion, which represents 27.23 per cent from December 2005.
Board Chairman of SSNIT, J. S. Addo made these revelations at the 3rd Stakeholders Forum in Accra yesterday.
On the management of the Trust's real estates, he said, "To enhance efficiency in the management of our real estates, we signed an agreement with BROLL Ghana to manage seven of our commercial estates.
"To assist the building industry, SSNIT made available ¢100.0 billion to HFC Bank, for onward lending to estate developers to construct houses at the Dunkonah Housing Development site," he added.
Mr. Addo said the Trust had executed an agreement with Fidelity Capital Partners, a venture capital company, to outsource $5 million to Fidelity Equity Fund II, which is a private equity and Venture Capital Fund, to promote the private equity and venture capital industry.
He pointed out that the Trust was still continuing with its policy of providing liquidity to the financial sector by way of lending to the private sector through selected financial institutions.
On Student Loan recovery, he stated that the Trust had been able to recover ¢236.6 billion, representing 15.84 per cent over the last few years. "We are recovering at the rate of ¢5 billion cedis monthly".
Managing Director of the Trust, Kwasi Osei said membership contribution had grown from 1,144,493 to 1,211,620 through the year under review recording 90,906 new members.
The total contributions collected in 2006 was ¢2,868 billion, representing an increase of 50.47 per cent over ¢1,906 billion in 2005.
By Patrick Baidoo