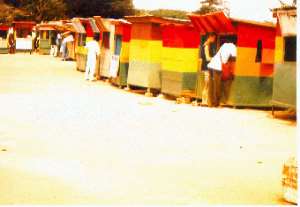 The Department of National Lotteries (DNL) will introduce a new multi-million dollar computerized lottery system to be known as the 5/39 Fortune Game.

The on-line lottery, when operational from July 1, as scheduled, would make Ghana the second country in Africa to operate an on-line system lottery besides South Africa.

The introduction of the new system comes in the wake of government's determination to increase lottery's contribution to the Consolidated Fund, which now stands at one per cent.

It is estimated that loss of revenue from lottery to the state stands at between ¢500 million and ¢600 million per week. This is expected to be eliminated with the envisaged computerization.

Simnet, a renowned lottery operator which, in collaboration with EDITEC of France, operates in a number of countries throughout the world, has been contracted to manage and provide technical assistance to the DNL.

The entire project is being funded by Simnet at no cost to the Government of Ghana.

The 5/39 Fortune is a jackpot with a guaranteed first prize win of ¢150 million every week.

Unlike other lotteries there are two chances in a game - one wins a game either with five correct numbers from 1 to 39 or with the ticket serial number.

The ticket serial number draw is to ensure that if no one wins with five correct numbers, the one who wins on the serial number takes home the mega five prize of ¢150 million.

There are also cash prizes for 4, 3 and 2 correct numbers.

In addition, the DNL will give the first 100 players to arrive at its Head Office in Accra and Kumasi on Tuesday morning following the Monday night draw of ¢100,000 each, if even they had no winnings.

The first draw would be on July 9 and tickets would be sold in DNL kiosks, pharmacies, direct marketing agents and shops from June 30.