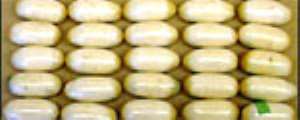 AN ACCRA JUVENILE court has found the two British girls, who were busted at the Kotoka International Airport for attempting to export cocaine worth $ 600,000 to London, guilty of drug related offences.
Although the girls pleaded not guilty to two counts of attempted exportation and possessing narcotic drugs without lawful authority, the court found them guilty.
The court however deferred its sentence to December 5, 2007 to enable Social Welfare personnel to liaise with British authorities to investigate the backgrounds of the girls back in the UK and brief the court on the findings.
The trial judge would take into consideration this assessment before delivering her sentence.
The accused persons, Vantansever Yasemin Cengiz, 16, and Yetunde Ibukunoluwapo Diya, 18, according to reliable sources, could not hide their tears when the court said they were guilty of the charges preferred against them.
They were arrested when going through pre-boarding formalities at the Kotoka International Airport.
During interrogation, the girls admitted ownership of the laptop bags that contained the cocaine, but stated that a certain Farham Timothy, alias Fire, sent them to Ghana to meet one Kwame and Emmanuel for the laptop bags with the stuff which were to be given to him in London for a fee of £6,000.
The head of the legal team, Sabine Zanker, reading a statement from the families of the accused person on the verdict, said they would appeal the verdict because they were deeply disappointed.
According to them, Yasemin and Yetunde were two extremely vulnerable young girls whose naivety has ruthlessly been exploited by the men who lured them to Ghana and left them to this terrible fate.
They noted that contrary to "misleading reports based on inaccurate leaks from the prosecuting authorities, neither of the girls had any knowledge of drug smuggling activities and that this was made clear in evidence to the court.
"While drug smuggling is clearly a problem which the Ghanaian authorities wish to prevent, our daughters are not the criminal masterminds which the prosecuting authorities have attempted to portray them as being."
The families of the Britons further indicated that the case was never as clear-cut as media reports suggested, and added that the court heard how the girls were denied access to a lawyer while being interrogated upon their arrest.
According to them, "the defence team presented evidence to show how the girls had been lured to Ghana on false pretences and also showed how they had never agreed to participate in illegal drug trafficking, and indeed had no knowledge of the real purpose of their trip".
They therefore thanked their lawyers in Ghana, the British High Commission, Fair Trials International and others for their assistance and support in their difficult times, but appealed to the media to respect the privacy of the girls at this period of time.
The international media men and photographers were as usual present to take photographs of the two teenagers.
By Mary Anane