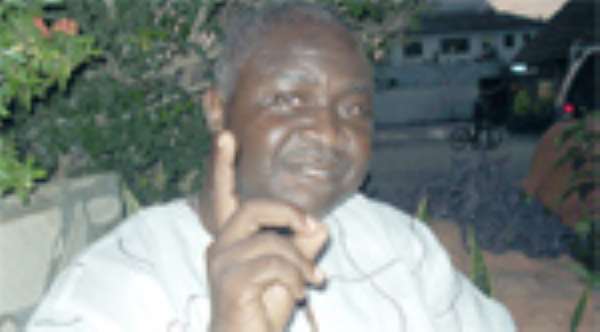 The United States government has formally requested for the extradition of the Member of Parliament (MP) for Upper East Denkyira, Nana Amoakoh.
Nana Amoakoh, also known as Augustine Asiedu, along with a former colleague, Nick Zarbhanelian, is standing trial on stealing charges.
The two have been charged for stealing more than $1 million belonging to their employers, Fone-A-Car, a limousine service company in New York.
The MP was the president of the company.
Sources close to the Attorney-General's office told DAILY GUIDE that the US government through its embassy in Accra made the extradition request in a letter dated October 11, 2007 and addressed to the Ministry of Foreign Affairs.
"Asiedu is wanted to stand trial in the State of New York on fraud and larceny charges. He is the subject in a case number 2374/07, filed on May, 2007, in the Supreme Court of New York, County of New York", the letter indicated.
However it is not clear whether the Ghana government would accede to the request, especially when it is based on an extradition treaty signed between the United Kingdom and US on December 22, 1931 and extended to Ghana on June 24, 1935.
At that time, Ghana was under British colonial rule, and legal experts have strong doubts whether Ghana would just release its national for what they described as an outdated treaty.
Recent extradition requests had not been carried out. The US requested for the extradition of Grace Coleman, MP for Effiduase-Asokore and former deputy Minister of Finance, for trial over a case of suspected forced labour involving her daughter who is domiciled in America. This request was turned down.
Regarding this latest request, the US authorities are also calling for the confiscation of assets of the New Patriotic Party (NPP) MP.
"Republic of Ghana authorities are also requested to seize all sums of money and other articles which may serve as proof of the offences to which this request relates, or which may have been acquired by the fugitive as a result of the offences, to be furnished to the United States at the time of surrender of the fugitive if extradition to the United States is granted."
Nana Amoakoh is facing 14 counts at the New York court including stealing, money laundering and falsification of bank records.
A warrant for his arrest was issued on May 17, 2007.
However, Nana Amoakoh has strongly denied the charges.
According to the charge sheet, the beleaguered MP stole over $1m from Fone-A-Car when he was its president from August 16, 2002 to July 6, 2005. He assumed the presidency of the car services company in 1990.
The prosecution indicated that after Nana Amoakoh had resigned, other directors noted that money running into over $1 million was missing from Fone-A-Car's various accounts and that the suspect had made unauthorized transfers of thousands of dollars from the company's accounts into his personal accounts.
When the MP was asked, he was said to have admitted to the theft and added that he used part of the money to take care of his sick sister and the rest on his parliamentary campaign.
Nana Amoakoh is standing trial along with a former colleague, Nick Zarbhanelian. The suspects allegedly stole the money from Brooklyn-based Fone-A-Car and two of its lenders from 2002 into 2005.
According to Manhattan District Attorney, Robert Morgenthau, Asiedu (Nana Amoakoh), Fone-A-Car's president, spent the money on a political campaign in Ghana.
Asiedu and Zarbhanelian, Fone-A-Car's chief financial officer, allegedly stole cheques for about $700,000 written by Manhattan clients including investment banks and law firms for car services, Morgenthau said.
Morgenthau maintained that the two accused persons deposited the cheques into Fone-A-Car accounts at several Manhattan banks and then moved the money into their own accounts, adding that the MP later wired a large amount of the stolen money to accounts he had in Ghana.
He was also accused of writing more than $30,000 worth of cheques from a Fone-A-Car account for deposit into the bank account of his girlfriend, Sebastiana Paul of Brooklyn, who is also a defendant in the indictment.
Besides stealing from Fone-A-Car, which had been in business for more than 20 years, Zarbhanelian of Fort Lee, New Jersey, allegedly stole more than $300,000 from the Manhattan lending company, Rosenthal & Rosenthal Inc., the district attorney said.
To prevent Fone-A-Car from going bankrupt due to their thefts, the defendants contrived in 2004 to receive cash advances from Rosenthal against money the limo service was owed by clients, he said.
In fact, Fone-A-Car was not owed anything, Morgenthau said, but based on the invoices, Rosenthal lent Fone-A-Car the money, keeping the car service running and the defendants stealing.
Morgenthau observed that Asiedu, 52, and Zarbhanelian, 55, worked with Apurva Patel, 41, of Armonk, N.Y., to steal $325,000 from All Points Capital Corp., a financing and leasing company affiliated with North Fork Bank.
The limo company officers and Patel, founder of a New Jersey company that made dispatching and billing software for car services, provided false documents to All Points for a loan to buy $325,000 worth of the software, Morgenthau said.
Asiedu, Zarbhanelian and Patel are charged with second-degree grand larceny and money laundering, punishable by 15 years in prison upon conviction.
Paul, 43, is charged with third-degree grand larceny, punishable by seven years in prison.
Zarbhanelian, Patel and Paul pleaded not guilty at their arraignments in Manhattan's state Supreme Court. Bail for Zarbhanelian was set at $500,000.
Patel's bail was set at $250,000, which he posted. Paul posted bail of $25,000 and was released.
By Fortune Alimi