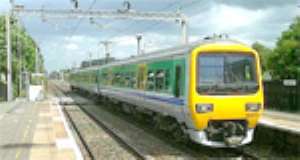 THE MINISTER of Ports, Harbours and Railways, Professor Christopher Ameyaw Akumfi, has disclosed that train transport from Accra to Tema would be fully operational before the Christmas festivities.
The minister, in an interview with DAILY GUIDE, hinted that everything concerning the rejuvenation of the rail tracks was ready and that residents of both Tema and Accra would soon enjoy the benefits of train transport.
Prof. Ameyaw Akumfi disclosed that both the government and its development partner, OPEC, had released funds for the completion of the project, adding that the train had already had a trial run to Asaprochona and would arrive in Tema very soon.
As part of the rehabilitation of rail tracks, the Prof said a car park had been constructed to accommodate 250 vehicles at Asaprochona.
Explaining the circumstances that led to the delay of the project, the minister said most of the rail lines were in good shape except in some places near the Graphic Road and the Kwame Nkrumah Circle, stressing that several sleepers were rotten and needed to be lifted for stones to be placed under them.
According to him, pressure on the tracks would increase when the trains begin to run and that proper maintenance was needed to avoid any future damage.
He said currently, there were three roads leading to Tema which were full of vehicular traffic, adding that when train services begin, they would reduce the traffic congestion and also allow workers to get to their destinations on time.
The minister touched on coaches and engines, saying these had been repaired for operations.
According to him, the government had proposed pumping a total of GH¢90 million into the sector next year to help improve rail transport in Ghana.
Prof. Ameyaw Akumfi hinted that by the middle of next year, his ministry would take delivery of six Diesel Multiple Units (DMUs), under a supplementary budget of $21 million released to the sector ministry this year.
From Simmons Yussif Kewura, Tema