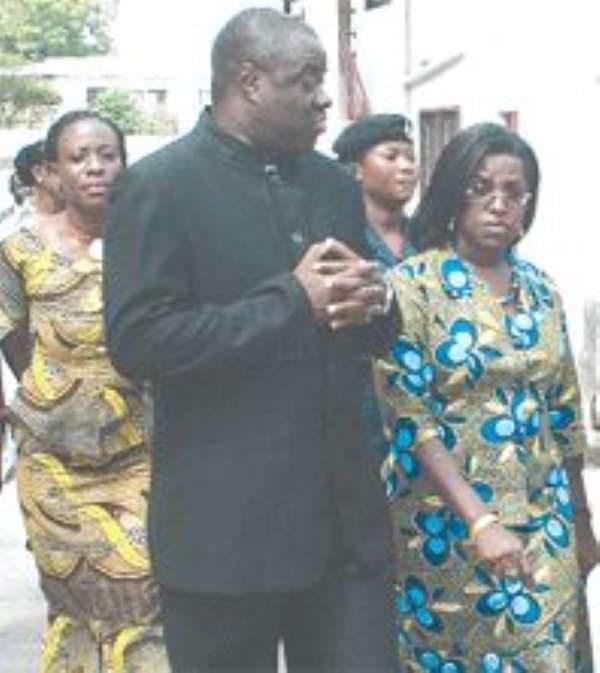 Mr Ibrahim Awal (left), MD of Graphic Group Ltd, leading Mrs Oboshie Sia-Cofie (right), Minister of Information round the premises of Graphic as part of a familiarisation tour of some media houses in Accra.
The Minister of Information and National Orientation, Mrs Oboshie Sai-Cofie, has commended the Daily Graphic for its high level of professionalism in the coverage and reportage of national issues.
Mrs Sai-Cofie said the government considered the paper as an important partner in disseminating information and educating the people on the government's policies and programmes.
Mrs Sai-Cofie said this during a familiarisation visit to the offices of the Graphic Communications Group in Accra yesterday where she urged the management of the paper to work hard to strengthen the ties existing between the media and the government.
She pointed out that the government would not interfere in the work of the paper and again commended the paper for a recent retraction of and apology to the Ghana Police Service for a story that it carried on its front page of October 30, 2007.
The minister urged the paper's Editorial Board to desist from using sensational and gory headlines.
The Managing Director of Graphic Communications Group Limited, Mr Ibrahim Awal, said the paper was committed to setting the right agenda for Ghanaians and therefore was conscious of the stories published.

He added that the first interest of the paper was to provide readers with issues of national interest without any bias.
Mr Awal noted that it was the aim of the paper to unite Ghanaians by educating and persuading them for the good of the nation.
" Our aim is to unite Ghanaians by educating and persuading them for the good of Mother Ghana. We will try to be balanced and your suggestions would be considered," Mr Awal stated.
The News Editor of the paper, Mr Samuel Okaitey, told the minister that the paper was committed to fair, accurate and balanced reporting in the interest of the general public.
Story by Davina Darko-Mensah