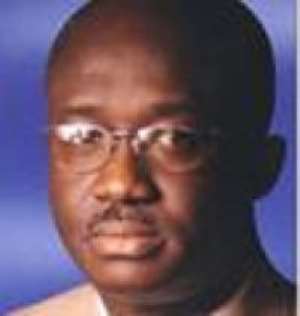 Officials at the Ministry of Energy have expressed surprise and shock at the news that the Minister of Energy, Joseph Kofi Adada has been sacked by President Kufuor.
The Statesman yesterday reported that unconfirmed information available to it indicated that Joseph Kofi Adda has been relieved of his ministerial portfolio.
But speaking to The Statesman, Michael Akwasi Sarpong, Public Relations Officer at the Ministry disclosed that they are not aware that the Minister has been relieved of his job.
He said he first heard of the news during the morning newspaper review programmes on radio, and later read it in The Statesman to verify.
Mr Akwasi Sarpong said as far as he and the Ministry are concerned Mr Kofi Adda is still the Minister of Energy until officially notified otherwise.
When asked the last time the Minister reported to work, the PRO said the Minister came to work last Friday. He said the Minister traveled over the weekend to the north, where he still is.
He told this paper that he spoke with the Minister on telephone yesterday morning to receive directives for the day, but indicated that they did not discuss the issue. He said the Minister is going about his normal work doing everything to improve upon the energy situation in the country.
According to the PRO, since it was The Statesman who broke the news, the paper should come out to prove its authenticity. "I think if there is any truth in the story the paper should come out with it," he added.
Mr Akwasi Sarpong however pointed out that since it is the prerogative of the President to appoint and dismiss Ministers, he would not be surprised if the story turns out to be true.
Kofi Adda, who is also MP for Navrongo, was appointed Energy Minister in April 2006 in a reshuffle that saw him moved from the Ministry of Manpower & Employment to replace Mike Oquaye.
His time at the Ministry witnessed the two extremes of energy crisis and significant oil find.
It was during his tenure as Energy Minister that Ghana endured over a year of energy crisis. But, he was generally not personally blamed for the crisis. Some commentators called for his dismissal, calls which the President resisted.
The era of load-shedding came to an end September 27.
It was also during his time at the Ministry that significant oil discoveries were made in Ghana. Ghana's oil find is estimated to carry revenue prospects of over $50 billion.
A couple of weeks ago, news reached The Statesman that Kofi Adda was asked to proceed on leave. He was however recalled from his 'holiday" in London when Norwegian officials and oil experts visited the country on invitation of the government.