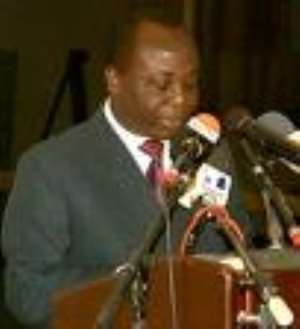 Mr. Freddie Blay, First Deputy Speaker of Parliament has charged African governments to ensure that development strategies that have catapulted Western and some Asian economies to their current levels of advancement are not lost on them since they hold some benefits to the advancement of the continent.
He said Managers, Chief Executives and Board of Directors of government and private sector companies are in key positions to facilitate the transition, noting that it was imperative that they deliver on their responsibilities.
Mr. Blay was speaking at the opening of a one week International Chief Executives and Directors' Programme in Accra on Wednesday. It is organised by the Business Education Examinations Council (BEEC) and The Management School of London.
He indicated that it was important for third world economies to effect swift changes in development over a shorter period than their advanced counterparts did since they (developing economies) have ready-made options that can be tampered with the current realities facing them.
The programme is the second and is being attended by Chief Executives, Directors, Board Chairmen and Non-Executive Directors of state and private sector institutions.
It is intended to equip them with skills to enhance their strategic thinking and update them with organizational strategy formulation.
It is also to examine organizational re-engineering and change management, among others.
Mr. Blay urged business to engage politicians in kick-starting strategic development programmes that would bring about change in the lives of the people.
"You have to wake up and make your impact felt," he said.
Mr Mike Okereke, President of BEEC said the role of Directors in the ever-changing legal and regulatory environment are full of pitfalls and directors who do not update their knowledge have themselves to blame.
"The tasks are complex and demanding and the penalty for getting it wrong can range from the sack to hefty fines and prison terms."
Mr Okereke said the programme would also assist participants to protect their organisation and among others, update their skills on issues and crisis management, which comes in handy throughout the life of their businesses and institutions.