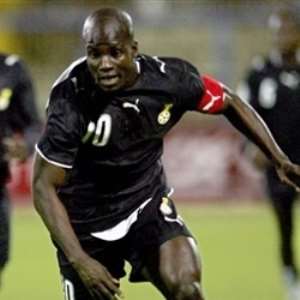 Stephen Appiah returned to national team duties helping Ghana to win the Zenith Bank 4-Nation International Tournament but the Black Stars captain concedes that he is yet to reach his optimum best.
While his last performance for the national team was in February when he led the team to best Nigeria 4-1 in friendly, this time round, Appiah had a rather tough time, not looking sharp after coming back from injury.
A great goal by the Ghana captain capped a rather quiet period on the pitch as his struggles to get match fit.
The Fenerbahce midfielder told the media after Ghana lifted the cup for the mini tournament that he is yet to perform at a high level as he hopes to reach his best before the African Cup of Nations and that is only going to come with more games under his belt after injury ruled him out for a longer spell.
"I want to assure you that my knee is fine and I am gradually coming back into the game. I have played some games for Fenerbahce his season and hope to carry on.
"Surely I would get there (best form). I know I am not sharp like I used to be.
"I have to be honest with you. I lacked conditioning because I have just returned from a long layoff and I need to play a lot more to peak.
"I need more matches to get back my rhythm and I am more than convinced that in no time, I will reach the level you all desire to see."
Appiah, whose great goal saw Ghana jump into a 3-2 lead after having trailed 2-0 for some 46 minutes was happy with the team's character that saw them come back to wrap up the game, 4-2 after regulation time.
"We were almost losing 2-0 at a point but we suddenly turned the game around.
"Character and spirit were our weapons today and we proved that we have a fine team capable of fighting and turning results around.
"It is always better to even play ugly and get results than to play beautifully and drop points," the Ghana captain said.