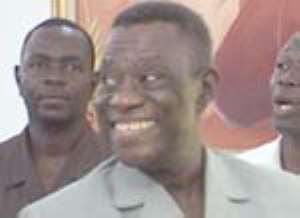 IN A DESPERATE move to capture political power in the next general elections, the opposition National Democratic Congress (NDC) is exploring a new avenue which could be described as funeral-to-funeral campaign.
The party's flagbearer for the 2008 general elections, Prof. Evans Atta Mills and other party activists had earlier introduced what they termed "a door-to-door campaign" where members of the party moved from one household to another explaining some of the policies of the NDC to people for them to support the party.
The new method the party executives want members to adopt is for them to attend almost every social gathering, especially funerals, to canvass support for the party to increase its membership and consequently win the 2008 elections.
Alhaji Fuseini Mahama, Western Regional 2nd Vice Chairman of the NDC, announced this at the party's primaries to elect a candidate for the Takoradi parliamentary seat for the 2008 general elections at Takoradi over the weekend.
"Whoever wins as a parliamentary candidate of the NDC should attend social gatherings such as funerals and out-doorings in their areas and sell the party to the people," he said.
He also called on the party's foot soldiers to work hard and help market all the parliamentary candidates of the party in constituencies which are the strongholds of the ruling New Patriotic Party (NPP).
Mr. Yaw Boateng Gyan, Deputy National Organizer of the NDC, alleged that the ruling government was planning not to hand over power even when it loses the next general elections.
He said the NPP was also giving military training to about 1,650 members of the party to intimidate NDC activists during the 2008 general elections and called on NDC polling station agents for the upcoming elections to be extra vigilant.
"If the NPP is training its people on how to use guns, we will also train our people with guns and face them when they refuse to hand over power to us or try to manipulate the elections," he added.
He described members of the NPP as armed robbers who were only interested in amassing wealth for themselves to the detriment of Ghanaians.
Mr. Jacob Annan, a- 50 year old professional teacher was elected parliamentary candidate of the NDC for the Takoradi constituency.
He polled 134 out of 158 votes cast to beat the only contender, Mr. Fiifi Sangari, who garnered 24 votes.
The Takoradi District Electoral Officer, Madam Ernestina Owusu Banahene therefore declared Mr. Jacob Annan the winner.
Mr. Annan pledged to work hard to win the Takoradi constituency seat for the NDC come December 2008, and asked supporters of Mr. Sangari to put the defeat behind them and rally behind him to achieve his ambition.
From Emmanuel Opoku, Takoradi