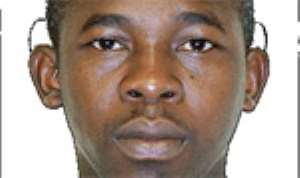 The last of five would-be bombers to target London on 21 July 2005 has been jailed for 33 years after admitting conspiracy to cause explosions.
Earlier this year a jury was unable to reach a verdict when Manfo Kwaku Asiedu went on trial accused of conspiracy to murder. That charge has been dropped.
The judge recommended Asiedu, 34, should be deported back to Ghana.
Four other men were jailed for life after being convicted of conspiracy to murder over the failed 2005 bombings.
Muktar Ibrahim, Yassin Omar, Ramzi Mohammed and Hussain Osman were told they would serve a minimum of 40 years.
A sixth man, Adel Yahya, pleaded guilty to a lesser charge earlier this month and was jailed for six years and nine months.
After the jury in his original trial was unable to reach a verdict, Asiedu had been due to face a retrial, which would have been extremely costly.
But after he agreed to plead guilty to conspiring to cause explosions, the prosecution dropped the charge of conspiracy to murder and he was sentenced at Kingston Crown Court.
'Central figure'
Judge Mr Justice Calvert-Smith told the court Asiedu had lied on an "epic scale" about his part in the bomb plot and that it was "inconceivable" he did not know the gang's motives.
He told Asiedu he had become the "central figure" in researching and buying the chemicals needed for the bombs.
Mr Justice Calvert-Smith described Asiedu as an "accomplished liar" and said the public had waited for him to admit his part in the attacks and "explain his motivation for the commission of such a dreadful crime".
"You have effectively chosen not to do so," he said.
The judge added Asiedu not only had not attempted to warn the police or Londoners of the plot, he had also continued to assist the conspirators by trying to dispose of incriminating evidence.
But he told Asiedu: "The maximum sentence for this offence is one of life imprisonment. I do not believe that the criteria for such a sentence are met in your case.
"Although your involvement was central, you were certainly not the leader or organiser of the plot."
Asiedu, whose real name is Sumaila Abubakari, had claimed he was oblivious of the plan to kill anyone until hours before the plotters went into action.
He said that as soon as he had had the chance he had dumped his rucksack, containing explosives, in a park at Little Wormwood Scrubs in west London.
But Nigel Sweeney QC, prosecuting, said: "The defendant's principal role in the conspiracy was in the purchase of 443 litres [110 gallons] of hydrogen peroxide, which were a vital ingredient in the main charge of the explosive devices required to be connected.
"Further he took part in a cover-up after the bombs failed to explode both for his benefit and the benefit of his conspirators."
Having arrived in the UK from Ghana on a false passport, he adopted the name Asiedu after finding documents belonging to a previous lodger of that name.
Asiedu then began attending a mosque in Finchley, north London, which was also frequented by co-defendant Yassin Omar.
And in June 2005, after a fire in his flat, he moved in with Omar at Curtis House in New Southgate.
Bomb ingredients
Curtis House later became a "bomb factory", with hundreds of bottles of hydrogen peroxide littering the flat.
Taking the stand during the trial, Asiedu presented himself as a terrified man and unwilling participant in the events of 21 July.
However, he was intimately involved in the buying of bomb ingredients including the critical element of hydrogen peroxide hair bleach.
He had been working as a painter and decorator at the time and told several wholesalers he needed the chemical to bleach wood or to strip wallpaper.
Mr Sweeney said: "He is plainly, or thinks he is, a consummate liar or deceiver - only someone who thinks that could go about false entry into the UK, adopting a false identity to remain here and go to the police taking them on in over 1,000 transcripts of interviews during which he sewed an intricate web of lies to try and avoid his guilt.
"He went on to give false statements and evidence on oath." BBC