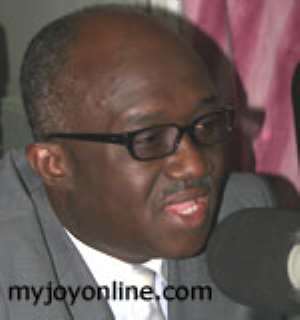 The Statesman newspaper says the Energy Minister, Joseph Kofi Adda may have been relieved of his ministerial portfolio.
Publishing on Wednesday what it said was unconfirmed information, the paper said the name of the young, dynamic and energetic Member of Parliament for Navrongo has ironically come up in the New Patriotic Party as a potential running mate.
A newspaper publication initially linked the Minister and Abubakar Saddique Boniface as running mate reckoning for Alan Kyerematen.
"But a source very close to the Alan camp has vehemently denied ever courting the Navrongo MP with a potential running mate offer."
Kofi Adda was appointed Energy Minister in April 2006 in a reshuffle that saw him moved from the Ministry of Manpower & Employment to replace Mike Oquaye, himself aspiring to replace President Kufuor as NPP leader and president of Ghana.
His time at the Ministry witnessed the two extremes of energy crisis and significant oil find.
It was during his tenure as Energy Minister that Ghana endured over a year of energy crisis. But, he was generally not personally blamed for the crisis. Some commentators called for his dismissal, calls which the President resisted.
The era of load-shedding came to an end at the end of September.
It was also during his time at the Ministry that significant oil discoveries were made in Ghana. Ghana's oil find is estimated to carry revenue prospects of over $50 billion.
A couple of weeks ago, news reached The Statesman that Kofi Adda was asked to proceed on leave. He was however recalled from his 'holiday' in London when Norwegian officials and oil experts visited the country on invitation from the government.
In a related development, The Statesman said it has picked up hints of a pending reshuffle.
While, Castle sources insist the reshuffle is likely to happen before the end of the year, the date should fall after the 22 December national congress where the next presidential candidate of the NPP will be chosen.