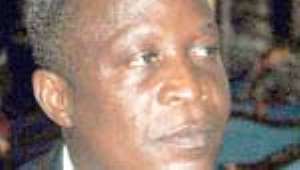 Ghana's financial sector including the capital market, as well as telecommunication, manufacturing and mining industries yesterday received a boost when the United States Overseas Private Investment Corporation (OPIC) announced a $250 million support to some selected economies in Africa.
The African Catalyst Fund, the Millennium Global African Opportunities Fund and Atlantic Coast Regional Fund constitute the three new funds.
Together with other countries on the continent such as South Africa, Egypt, Kenya, Nigeria and Cote d'lvoire, the country is expected to get its share of the $100 million from the African Catalyst Fund which will invest in exchange traded and private equity, convertible bonds and private loans to provide capital growth in Africa.
The fund's investments will enable companies in a variety of industries to expand and potentially tap the capital markets.
It will also provide multiplier effects through its provision of growth capital and best management practices, which will increase companies' profitability through increased competition.
With regard to the Atlantic Coast Regional Fund which has a target capitalization of $150 million, it will provide up to $50 million investment in companies in West and Central Africa.
The fund aims to impact on economic diversification because it intends to invest in private companies, and small and medium scale enterprises (SMEs).
Like the Africa Catalyst Fund, the Millennium Global Africa Opportunities Fund will help to diversify African capital markets which are currently dominated by sovereign debts and exchange traded equity.
Announcing the package in Accra which will result in a lot of developmental benefits for businesses throughout Africa, Secretary of US Treasury, Henry M. Paulson commended African leaders for taking the economic progress of the continent into their own hands, adding that the capital markets will play an essential role in this regard.
He noted that these funds will drive private capital investments in Africa, explaining that Africa's capital markets are the final frontier of economic development.
President and Chief Executive Officer of OPIC, Robert Mosbacher also said Africa's financial markets are expected to take off with this support.
The funds are the first of several that OPIC will use to support the continent as part of the Africa Financial Sector Initiative (AFSI) announced by President George W. Bush in May, 2007, and which will exceed more than $1 billion in investments.
In addition to the fund OPIC has committed a total $270 million in guaranties for three investment funds that will focus on the Emerging Market Partners and the African Infrastructure Fund among other funds.
By Charles Nixon Yeboah