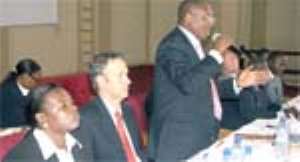 THE TURNOVER of Guinness Ghana Breweries Limited (GGBL) for this year recorded significant gains, appreciating by 17 percent as compared with that of the year 2006.
As at the end of June 2007 when the financial year of the company came to an end, its turnover stood at GH¢122,400, as against the GH¢104,700 recorded by the company during the same period under review in 2006.
Sales volumes for the iconic brand Guinness Foreign Extra Stout increased by one per cent over last year.
Malta Guinness was up by 9 per cent, while the Ready-To-Drink (RTD) category, which includes Gordon's Spark and Smirnoff Ice, grew by 61 per cent.
The company's contributions to national revenue comprised Excise Duty and VAT at ¢579.5 billion and income tax at GH¢3,500,000.
The Board of Directors declared a full dividend of ¢429 per share before tax for the year, made up of an interim dividend of ¢86 and a final dividend of ¢343 per share. This represents a 3 per cent increase on the previous year.
Consequently, shareholders of GGBL last Tuesday commended the performance of the company at a well-attended 35th Annual General Meeting (AGM) held at the Prempeh Assembly Hall in Kumasi.
In his remarks, the Board Chairman of GGBL, Dr. Nick Blazquez commended the Bank of Ghana for the manner it continued to manage the impact of world crude oil prices on the Ghanaian economy.
He further stated that due to significant cost challenges in the year, trading margins were under pressure.
"The good news is that, benefiting from considerable cost engineering and increasing operational efficiencies, GGBL continues to build and implement strategies that are delivering superior growth," he said.
Dr. Blaquez stated that GGBL believed in the long-term sustainability of the business in this country and listed recent investments including the newly commissioned ultra-modern Effluent Treatment Plant at Kaasi as testament to this.
On his part, Mr. Seni Adetu, Managing Director of the company commented on the year-end-performance of the company stating that "our vision is to establish GGBL as the most celebrated company in Ghana.
"This means creating first choice brands, developing amazing relationships that bring out the best and enriching the communities we work in, whilst ensuring that our brands are enjoyed responsibly."
From Stella Danso, Kumasi