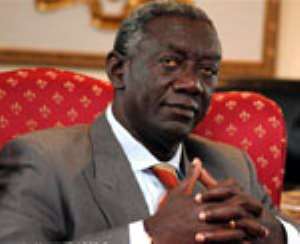 President John Agyekum Kufuor President John Agyekum Kufuor has with immediate effect relieved one Municipal and 12 District Chief Executives of their positions, a statement Mr Kwadwo O. Mpiani, Chief of Staff and Minister for Presidential Affairs, signed and released yesterday said.
Those affected are Mr Abdul-Rahman Gumah of Bawku Municipality Mr Moses Appiah Abaare of Bawku West District and Mr Sabastien Tibil Bisnab of Talensi-Nabdam, all in the Upper East Region.
Those affected in the Upper West Region are; Mr Ismail Beliwie Madah of Sissala West and Mr Adams Mahama Issahaku of Wa East District.
The three from the Northern Region are Madam Elizabeth Pigit Poyari of Bunkprugu-Yunyo Alhaji Yakubu Bukari of Zabzugu-Tatale and Madam Elizabeth Forgor Salamatu of Bole District.
Those from the Ashanti Region are Mr Bright Addai Munukum of Bosomtwi-Atwima- Kwanwoma, Mr Kwame Asamoah Boateng of Amansie Central and Dr Lord Gyamfi-Fenteng of Asante-Akyem South.
The rest are Madam Cynthia Titiriku-Danso of the Sene District of the Brong-Ahafo Region and from the Volta Region, the Krachi West District Chief Executive, Mr Kofi Mensah Demitia, has been asked to go back to his former employment.