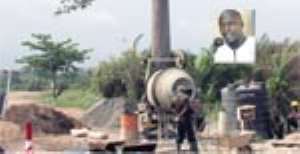 THE HULLABALOO surrounding the world witches' conference purportedly slated for Ghana has come and gone without any concrete steps being taken to spiritually clear the 'debris' left behind by the witches.
The recent spate of road accidents involving prominent members of the Ghanaian society including President John Agyekum Kufuor, Alan Kyerematen, Nana Akufo-Addo and other top officials are said to be the manifestation of the 'projection' made by the witches.
At the two-month long meeting, held at Juaso Nkwanta in the Ashanti Region and chaired by the Regional Commander, one Seth Kofi Manu, the witches, among many things 'vowed' to unleash on Ghanaians deaths through road accidents.
When DAILY GUIDE went to town to find out if there was any spiritual connection to the spate of road accidents, the revelation was startling.
Rev. Dr. Annor-Yeboah, the General-Overseer of the Christian Praise International Church (CIPC) confirmed that the accidents had a spiritual undertone.
"If I want to buttress what we are seeing now, as far back as 2000, during the 2000 elections, it was revealed to us that the forces of darkness were going to use that occasion to cause havoc, especially bloodshed and our nation will be so close to Liberia, Somalia and Sierra Leone.
"In fact, after we finished our prayers the witches came over to Ghana. We knew God had already taken control. We knew they would not succeed. In fact, they were doing all these things in the spirit.
They came physically to announce their presence when they knew spiritually they were not in control. What they did was to scare the nation and that is why they could not openly hold the conference.
He disclosed that on Tuesday night, a day to the President's accident, they were praying for the nation when they saw Satan and his forces move through Ghana.
"It meant great evil for the nation. We confronted him with a force, the power of the risen Jesus Christ. In the vision we saw he was very close and as we continued praying, we saw it was moving up and was becoming pale, which meant the effect of what he was coming to unleash had been weakened.
"In fact, during the night we knew something terrible was coming to happen to Ghana but that God was still in control.
"Just after seeing the image of Satan, another wonder appeared - a very big mass of a skeleton - and we knew it was death."
The CIPC General Overseer stated that Satan's passing over Ghana was interpreted as death and that death could take many forms.
"Through accidents, wicked people being contracted to shoot others, criminal activities, rape, lynching and burning and various forms of destruction leading to the death of people."
He however stressed that after the prayers, the huge skeleton was weakened and it crumbled.
"As we were watching, fire came from heaven to devour the skeleton and though we knew they would pass through this nation, the power of God was in control.
We celebrated in the early hours of the day, praising God so much, when at 11am people heard of the accident and what happened that day - former ministers of state, presidential aspirants, the president.
Those who were at the prayer meeting rang me and said, "Eh, God has used us to avert something terrible. How could it happen that the President would not die a natural death but be killed in an accident?"
"So if you ask me, with all these things that I have seen during 2000 and this one - the President and notable people - Satan wanted to feel that he is a big person.
"At that time within my former church (CAC), I organised prayers involving pastors. We spent the first 7 days in fasting and prayer but we didn't see results and in another 7 days God revealed to us that there were some scavengers coming all over from the four corners of the earth and they were coming with the evil forces, and they were coming to feed on human bodies," he disclosed.
Rev. Dr. Annor-Yeboah indicated that because of the carnage that was about to take place at that time, they prayed and they saw a powerful storm that was greater than the forces of evil come to push it out of Ghana.
He revealed that they saw the forces of evil moving towards Cote d'Ivoire.
"Ever since, Cote d'Ivoire has known no peace and our nation was saved and we knew it was prayer that saved our nation."
He mentioned that he had organised 350 people who had been praying daily for the nation, and another group that prays for sensitive issues affecting the nation.
Rev. Dr. Annor-Yeboah added that quite recently they saw another vision where there was an evil force that had been caged and was being controlled by a light that shone on it.
"Shortly after that the Holy Spirit revealed to us that the force is not ended; the calamity from the evil forces wasn't ended and that was when we saw the winds of the four corners of the earth, heavy storm moving from all the four corners of the earth and it was coming to crush Ghana in.
"Ever since, we have always been praying for God to send angelic powers to stand at the four corners of the earth and the power of Jesus Christ and the Holy Ghost to hold the nation together that the storm wouldn't overtake this nation."
Rev. Dr. Annor-Yeboah questioned what Christians would have done if the President and other good people had died through the road accidents.
He advised politicians to be circumspect in handling political issues.
"Nobody should beat war drums or sing war songs, because from now to December 2008 the eyes of the devil and other forces of evil will be on this nation."
He advised that politics should not be handled like an issue of "death and life" and that elections should be conducted in a free and fair atmosphere.
By Wisdom Peter Awuku