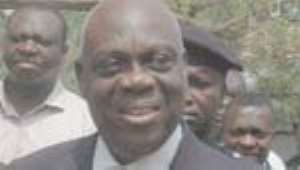 THE SPEAKER of Parliament, Rt. Hon. Ebenezer Sekyi Hughes, has assured Ghanaians in Kuwait that he would discuss with the Ministry of Foreign Affairs the possibility of establishing a consulate or appointing a consul for them.
He gave this assurance when he met the Ghanaian community in Kuwait during his recent official visit, as the head of a Parliamentary delegation, to the Gulf State.
The assurance followed requests by the Ghanaian residents that they encountered problems in consular issues due to the absence of a consulate in the country.
The Speaker briefed them on developments at home, especially on the economic and political fronts, and encouraged them to take advantage of the favourable economic climate to come home and contribute their quota to the nation's development.
At a meeting with the Director-General and the members of the Kuwait Chamber of Commerce and Industry, the Speaker and the Ghanaian delegation asked the Kuwaitis to explore the investment opportunities in Ghana in areas such as transport, energy, education, banking and finance.
Mr. Hughes also held bilateral talks with the Prime Minister of Kuwait, Sheik Nasir Al-Mohammad Al-Ahmed Al-Sabah, who was happy that Ghana had discovered oil. Their discussions therefore centred on assistance for exploration, refinery, and exportation with Kuwait.
The Speaker of the Kuwait National Assembly, who invited the Ghanaian delegation, asked for Ghana's support and co-operation for Kuwait in its move to solicit legislation at the Inter Parliamentary Union against individuals or groups which spoke against any form of religion.
He cautioned that if such tendencies were not curbed, it would create problems within nations and religions.
By Sylvanus Nana Kumi & Ethel Kangberee