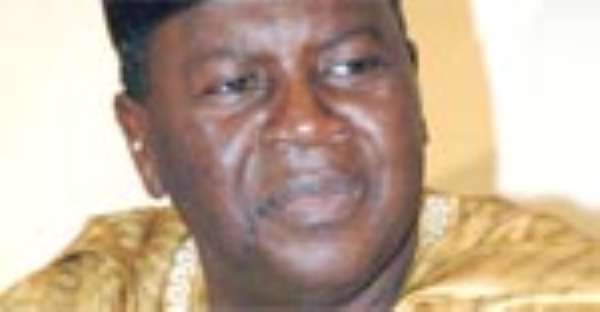 THE PARAMOUNT Chief of Dormaa Traditional Area, Osagyefo Agyeman Badu II, has asked Ghanaians not to hesitate to reject presidential candidates who will use money or wild promises to influence them.
He said politics was not about money but the development of the nation, and advised Ghanaians to critically evaluate presidential candidates of the various political parties in order to make the right choice in next year's elections.
Osagyefo Agyeman gave the advice when Vice President Mahama paid a courtesy call on him to officially tell him of his intention to lead the ruling New Patriotic Party (NPP) to next year's polls.
The chief noted that the numerous candidates seeking to lead the NPP in the next election was a testimony of internal democracy, but said there was the need for the party to be circumspect about the process in order to avoid any trouble.
He commended the Vice President for conducting himself excellently so far in his campaigns, and wished him well in his presidential ambition.
For his part, Alhaji Aliu Mahama said his zeal to lead the NPP in election 2008 was because he could win all floating voters to the party and serve as a bridge between Christians and Muslims, the rich and the poor and all ethnic groups in the country.
Alhaji Mahama also interacted with Bayeeman Boseah Gyimantwi IV, chief of Drobo, where he described himself as the most experienced man to take over from President Kufuor in January 2009.
Addressing members of the Asunafo North District Assembly at Goaso, the Number Two Citizen expressed concern about the rising incidence of armed robbery in the country, saying there was the need for the creation of more employment avenues to engage the youth.
At Wenchi, Vice President Mahama interacted with family members of the late Prime Minister of the second Republic, Prof Abefa Busia, and later laid a wreath on his mausoleum.
Prof Busia, who was born on 11th July 1913, died on August 28, 1978. He died in exile after his regime was overthrown by the erstwhile National Redemption Council in 1972 after 27 months in office.
Vice President Mahama said the former Prime Minister, who was among the doyen of the Danquah/ Busia Tradition, was a great leader with huge wisdom and leadership qualities in Ghana and Africa.
He contended that he deemed it right to therefore come to his root to seek blessings for his presidential bid.
Nana Kofi Apea and Nana Frema, brother and sister respectively of Prof Busia, called for God's blessings for the Vice President.
From Sheilla Sackey, Dormaa