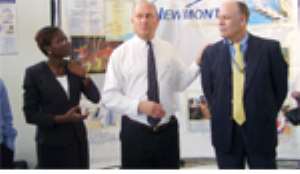 Newmont Ghana Gold Limited says it needs over $700 million to develop its Akyem project, located in the eastern part of the country.
The mining giant said it had already spent $130 million on the project and also employed 350 people.
In 2005, Newmont submitted the environmental impact study on its Akyem project to the Environmental Protection Agency (EPA), but it was withdrawn for revision in September 2006 due to project economics and certain EPA observations.
Key observations made by EPA about the Akyem project were related to pit backfill at closure, proximity of the project to local communities, and the importance of land for farming.
Management of the mining company said it is currently doing everything possible to enhance the social and environmental baseline studies of the project in order to address the afore-mentioned outstanding issues.
He assured stakeholders that the company's activities at Akyem mines project would be conducted in accordance with the highest environmental standards.
In February 2002, Newmont Mining Corporation, the parent company of Newmont Ghana, acquired Normandy Mining and thereby obtained two concessions in the Ahafo area in the Brong Ahafo Region and Akyem in the Eastern Region.
The two areas prior to Newmont's entry had never seen large-scale industrial gold production operations.
The two projects are the company's first venture on the African continent and they involve a total capital investment of $1billion.
When the Akyem project becomes operational, both projects are expected to produce a combined one million ounces of gold annually.
According to Newmont Ghana, over $600 million have been invested in the Ahafo Mines project this year, and "additional investment estimated to be over $600 million would also be invested into the project."
The mining company said it is on target to produce between 425 to 450 ounces of gold for 2007.
On royalties, the company stated that the Ahafo Mines alone which employs approximately 2,900 personnel gave the government of Ghana $8.6 million between the period of July 18, 2006 and September 30, 2007.
The mining giant said about 96 per cent of the total number of people employed by the Ahafo Mines, are Ghanaians.
Chris Anderson, Director of External Affairs of Newmont mentioned illegal mining at Ahafo, speculative building and farming activities, among others, as some of the challenges facing the mining company.
Highlighting some of the livelihood enhancement and empowerment programmes embarked upon by Newmont Ghana, Mr Anderson noted that his outfit had improved sustainable food and cash crop production among 750 farmer households in the Ahafo area and further created small and medium size enterprises to strengthen income generation for 150 women and men.
"We have also increased micro credit for 800 clients for business creation, expansion and performance. Furthermore, access to portable water and sanitation facilities increased for 10,000 people in the area," he added.
By Felix Dela Klutse