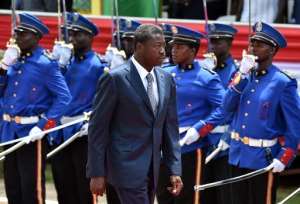 Togo's President Faure Gnassingbe walks past an honour guard in Lome on April 27, 2015. By Issouf Sanogo (AFP/File)
Lome (AFP) - Togo's President Faure Gnassingbe has won a third term with 58.75 percent of the vote in Saturday's polls, the electoral commission said, giving his main rival Jean-Pierre Fabre 34.95 percent.
"The national electoral commission states that Faure Essozimna Gnassingbe has been elected based on provisional results which are subject to confirmation by the Constitutional Court," the commission's head Taffa Tabiou said late Tuesday.