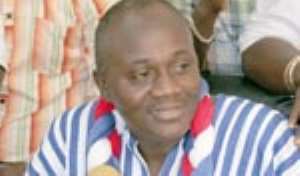 MR. DANIEL Kwaku Botwe, former Minister for Information and currently New Patriotic Party (NPP) presidential aspirant for the 2008 general elections, says he has paid his due to the Danquah/Busia Tradition in terms of sacrifice and commitment.
He noted also that going by the experience he had acquired in his 25 years of politics coupled with the his desire to better the lot of the people, he thinks he is best cut-out to become the president of Ghana.
Making the declaration in an interview on Adom 106.3FM, a Tema-based radio station, the former NPP general secretary said he opted to enter politics by choice.
"I don't usually like talking of my achievements and track record, but honestly, if you are talking of exposure and experience, then I don't play second fiddle to any of the aspirants or contestants in the on-going flagbearership race," he said.
He observed that NPP did not just win political power in 2000 simply because the people needed a change.
The then opposition, he stressed, fought for it to the extent that some people paid dearly for it, and recalled how Hon. Kwamena Bartels was stabbed on one occasion for being vocal on political issues.
The aspirant said he had proven his worth when he took over power as general secretary of the party in 1998, saying for eight years, he travelled across all 230 constituencies in the country and was able to energize and encourage the party foot-soldiers to work for the party.
"When you talk of the real art of governance, policy making mechanism and the inner machinery of governance, I have been part of it since 2001," he added.
He hinted further that he delayed in openly declaring his intension to enter the race, not because he was undecided, but largely because he felt the programmes of government should first be sold to the populace.
"I wanted to be president long ago. I didn't start my campaign early enough because it was not proper to do so at the time. In fact, I had been hesitant about it but it did not mean I wasn't sure of myself," he explained.
Mr. Botwe explained that his understanding of politics is to pursue policies and programmes that would go a long way to upgrade the lives of the people.
According to him, sound political judgment, boldness to take decisions and the discipline to implement those decisions were the hallmarks of a good president.
"One good policy of a president", he noted, "can affect millions of lives within a short time. His duty is to harness the natural and human resources of the country. Looking at the powers of a president, he can do a lot for the people, and I want to better the lot of my people."
Speaking on a wide range of issues, the presidential hopeful maintained that even though the current government had done a lot for the nation, much more needed to be done in all the sectors, stressing that no government on earth had reached the end of development.
"If you invest in education, it's more than discovering oil or gold. Our educated children can be likened to the oil wells that never run dry," he indicated, and lamented that Ghana could not be labeled an agricultural country as it still imports tomatoes from neighbouring Burkina Faso.
On corruption, Dan Botwe said it was one area that his government would not close its eyes to, and promised that any minister in his government accused of corruption would be invited to clear the air.
Mr. Botwe is one of the 19 people vying for the ruling party's presidential slot.
By Bennett Akuaku