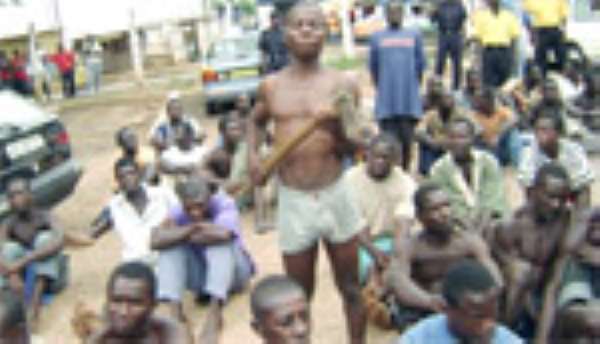 A COMBINED team of military and police personnel have arrested 47 men from Princess Town and Aketekyi in the Ahanta West District of the Western Region for questioning, following clashes between two factions engaged in a protracted chieftaincy dispute in the area.
The clashes, which occurred on Wednesday, November 14, 2007, resulted in the death of two people.
Nana Tobiti Ackah, 47, appointed by Nana Kundumoa IV as chief of Aketekyi near Princess Town and John Yankey, a 26-year-old farmer from Aketekyi, were shot dead in the heat of the clashes and their bodies have been deposited at Dixcove and Effia-Nkwanta Hospitals respectively for autopsy.
22 houses were burnt down at Aketekyi and the palace of Nana Kundumoa V was also torched.
Mr. John Robinson, Head of Family of Nana Kundumoa V, who was severely wounded at the back of his head, was admitted at Effia Nkwanta Hospital, but has since been discharged. He reports daily to the Kwesimintsim Police Station.
According to the police, whereas Nana Kundumoa V has reported himself to the police, Nana Kundumoa IV is nowhere to be found.

A combined team of military and police are monitoring the situation at Princess Town and Aketekyi, but the local men have deserted the town and taken refuge in the bush and nearby villages.
The police have intensified their investigations to bring the perpetrators of the crime to book, according to ASP Magnus Sam, District Commander of Kwesimintsim Police Station, who briefed DAILY GUIDE on the incident at his office yesterday.
He said due to a protracted chieftaincy dispute, Princess Town has two Chiefs, Nana Kundumoa IV and Nana Kundumoa V, each living in separate palaces.
ASP Sam said Nana Kundumoa V began celebrating his annual Kundum festival on Sunday, 11th November 2007, but on Monday at about 2:00 am, a group of people were organized to throw some explosives in the town, injuring a 65-year-old woman.
The assemblyman of Princess electoral area, Hon. Roland Acquah, confirmed that some explosives were thrown at a group of people when they were dancing the Kundum.
Police also had information on Tuesday, November 13, 2007, that a group of people were firing guns indiscriminately at Princess Town, therefore personnel were sent to the place to maintain law and order.
It was there that the police got to know that Nana Kundumoa V had allegedly been chased out of his palace and that there were some clashes between his supporters and those of Nana Kundumoa IV that day.
The police then moved to the palace of Nana Kundumoa V and the information they got was that some youth had confronted the head of the royal family, Mr. John Robinson, and inflicted cutlass wounds on him.
ASP Sam said Mr. Robinson did not receive any attention until the police arrived because his assailants had warned residents and bus drivers in the community not to go to his aid.
ASP Sam said when the police attempted to rush Mr. Robinson to the nearest health facility, they realized that the people of Princess and Aketekyi had blocked the road with stones and pieces of wood.
The police consulted the assemblyman of Princess and he pleaded with his people to remove the barriers, after which Mr. Robinson was taken to Effia Nkwanta hospital.
Another reliable police source disclosed that the late Yankey was shot by Nana Tobiti Ackah and that when some people tried to wrestle the gun from him, a struggle ensued and the butt of the gun got broken.
Nana Ackah then escaped to Akwadae, a nearby village, but on returning the next day, November 14, 2007, he was allegedly shot by a group of people belonging to the opposing faction.
The police said a 54-year-old teacher, known only as Nkrumah, belonging to the Nana Kundumoa V faction, was also wounded on the leg and is on admission at Effia Nkwanta hospital.
From Sam Mark Essien, Takoradi